Ben Hamilton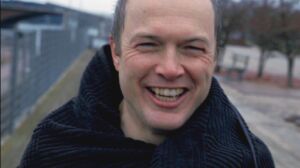 So I'm standing there with my ever-versatile colleague Johan, the cameraman on this occasion, interviewing the on-duty Vinterbad Bryggen staff at two portable saunas parked next to the icy waters of the Island Brygge harbour swimming pool. I didn't catch their names – you try taking notes in a wind chill of minus 14.
On Sunday December 6, the Vinterbad Bryggen bathing club offered the good citizens of Copenhagen the chance to experience the delights of winter bathing – all free of charge as part of the Copenhagen Christmas festival. Swim-sauna-swim-sauna, how much of the blood boiling/chilling combination could we take?
Oh, and there's Vikings as well – to complete the 'live like the Danes' experience. Just 30 metres from the pool, the world-renowned Frederikssund Vikingespil group have set up shop for the day, offering food, mead, battles, storytelling and passers-by the chance to test themselves in a blindfolded fighting game.
Johan's wearing a winter coat and three layers of ski gear – it's what the Danes commonly refer to as sensible clothing. I'm dressed in my swimming trunks and have just been in the water. And Johan's telling me he's cold and wants to call it quits for the day.
That's when it hits me. My teeth start to chatter and my legs start to shudder as exhilaration turns into disorientation. Where the hell are my clothes?
Like father, not Farmor
Rewind 45 minutes and I'm standing on the edge of the swimming pool with my colleagues Christian and Ella, recalling how my grandmother died in a similar fashion. The unexpected shock of the cold water on a sunny day killed her, although she was probably too old for jumping anyway. In my case, I know the water's going to be freezing. It's December and we're in Copenhagen.
I also remember the words of her son, my father, about the time he was dumped in the North Sea as part of his National Service training. "Like being stabbed by hundreds of knives," he said. I never found out how he knew what being stabbed felt like. But then again, he was a lawyer.
All in all, I'm expecting to be knifed but am quietly confident about living. The water's shallow, so when I jump I make sure I spring back a bit so my head goes under – I'm all in, in every sense. And initially, it feels routine, refreshing even. But something's wrong. My feet feel numb, like they've been replaced by two packets of fishfingers. And suddenly my lower legs are all bone, and I'm at the point where I'd gladly push Kate Winslet off the wardrobe door to take her place.
So this is how a skeleton feels when it walks, I think, as I make my way to the steps. Otherwise, I feel fine.
Turning into The Fly
I rant at Johan for a minute and then rap on the door of the sauna and it soon opens. One thing's for sure: there are more people in here than there are outdoors in the pool. I'm shot a few furtive glances as I climb aboard the lifeboat. I take a seat at the back and feel my body responding to the warmth.
It's the first time I've noticed there's a guide/attendant, so I'm wondering if we made a mistake by choosing the swim ahead of the sauna, but within seconds of her introduction, she establishes that you can do either/or.
My mistake, it turns out, is sitting high up. It's getting awfully hot up here and the session has only just started. Sage and then lavender oil cut through the air and penetrate my breathing. "Breathe through your nose and exhale through your mouth," Roger that! "Don't forget to drink plenty of fluids," she adds. "Or you'll dehydrate!" Oh, bloody hell.
I move down a step, close my eyes and take refuge in the deepest recesses of my mind. Only two minutes to go, we're told. I'm on fire and half expect my back to start blistering like I'm about to turn into The Fly.
Swimming skeletons
Minutes earlier I'd scoffed at the idea of finishing with the swim, but after surviving the fires of Mordor, making like a fishfinger-toed skeleton is my only way out of here.
This time I swim two lengths, even though the second feels like I've got two piranha working their way up my calves.
I get out, and this is it! I've completed the mission, and you know something, compared to that pool this force-ten gale isn't too bad. Like a Norse god's hair-drier.
I spy the sauna-rette workers and start interviewing them for our video edition. One of them, it transpires, hasn't had a cold for five years … a cue, it turns out, for Duffle Coat Man to tell me he's freezing.
Worth the experience
Post-dressing we sit down for a warm drink in the Island Brygge Culture House. My feet are still cold, but I've stopped shivering and otherwise feel invigorated.
I'm not going to make this a habit, but as far as experiences go, it's been a good one.
Does it make me an honorary Viking? Ask me that after I've tried some pillaging.
---
 Ella Navarro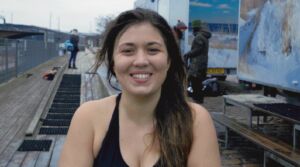 The Viking bath – it's done. You can chalk that one off the Danish bucket list.
Waiting in the wind
All the waiting went quickly, except for the final five minutes. There I was standing in the freezing wind, practically naked, waiting to jump in with my two colleagues, my feet slowly turning numb, thinking to myself: "Why did I sign up for this?"
But the cameraman (a friend I thought) kept on delaying us, trying to get our 'best shot'.
"How did you guys convince me to do this! It's crazy!" I shouted. But there was no way out. And maybe they couldn't hear me in the wind. We counted one, two, three: Splash!

Follow your instincts!
Everything went black and I felt every part of my body freeze like small ice-cubes. My first instinct was to dive out with all my strength and sort of swim (because I could barely feel my legs) towards the steps, get out, grab my towel and get into the sauna. And that's exactly what I did.
The sauna felt great, so warm, but I kept on shivering for a while till my body completely recovered its temperature.
By chance we had joined an oil and essence therapy session, which was nice in the beginning, but then it got too hot and judging from my colleagues faces, we wanted the cold again.
Only the brave
On the second occasion I jumped twice. I wanted to be brave, but that second time without thinking, it killed me. My heart was racing. Again I swam to the stairs desperately. A lady was hesitating to get in and I had to almost take her with me to climb out.
Initially the wind outside felt warmer, so I stood there, but then I started to feel dizzy and cold again, and the only thing I could think of was getting my clothes back on.
While I couldn't stop shivering for a while after the dip, I felt lighter in mood and a sense of accomplishment. I had completed the challenge and it felt good.
Like a baptism
Reflecting on my experience, it felt like a baptism in the cold Danish waters. I can say I am a true Viking now. I would definitely do it again.
Well, maybe …
---
Christian Wenande 
Being married to a Russian and thus indoctrinated in the ways of the 'banya' (sauna), I was quite looking forward to the excursion.
Having recently visited Helsinki (another sauna mecca), I returned home and lamented the lack of such a culture in Denmark. After roasting in saunas in Russia and Finland, the ones at the local swimming pool in Denmark simply won't do anymore.
Fearing the worst
I must admit, I feared the worst when we entered the sauna at just 68 degrees. Even at the top bench seat, the air felt lukewarm at best and unwelcoming echoes of Kildeskovshallen swimming pool came washing back.
But after putting on some Tibetan chanting music, the sauna master lady would soon dispel those ill-deserved fears.
An ethereal moment
More and more water was added, along with drops of sage, eucalyptus, lavender and rosemary as the temperature in the sauna reached fever pitch.
The searing heat, formidable smells and Tibetan chanting nearly sent me into a trance of sorts and as we plunged into the cold waters of the harbour minutes later, I knew I had never felt as ethereal before in Denmark. Physically, I felt lighter and more refreshed for hours afterwards.
---