The cynics might contend that Christmas and Brexit have a lot more in common than the popular cracker joke: "How will Xmas dinner be different after Brexit? No Brussels!"
After all, Isaiah (Nigel Farage) prophesised the birth of Jesus (Brexit) and gospel writers Matthew and Luke (Boris Johnson and Michael Gove) embellished the truth, and initially the shepherds (sheep) were spellbound.
But the wise men (other EU nations) noticed a falling star – over Bethlehem/off the EU flag – and it didn't end well. John the Baptist (David Cameron) scarpered off after laying the groundwork for a fool guy, Jesus (Theresa May), to get crucified.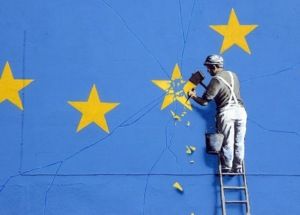 A new Messiah
Nevertheless, it is not all gloom and doom for British businesses. Long after the turkey / a once great country has been stripped to its bare bones leaving everyone feeling stuffed, there will still be huge demand.
The decision to scrap the 139-year DFDS ferry service between Esbjerg and Harwich in September 2014, for example, deprived thousands of Brits and Danes of a convenient way of transporting goods between the countries.
The only truly viable solution to move goods yourself is to hire a courier business like Martin Couriers Europe ApS (MCE), which offers transport and logistics between Britain and Europe.
Household goods, Xmas puds
Its British owner Martin Privett expects Brexit to accelerate the demand for freight services between the countries, as many Brits plan post-haste, pre-Article 50 dashes to escape the island with their worldly possessions in tow.
And with Brexit expected to slap hefty tariffs on British favourites like Marmite, Branston pickle and Oxo cubes – which importers already charge a pretty penny for – Privett figures now is the right time to use his established regular weekly transport routes to ferry household favourites, as well as other goods, particularly now the pound is so weak.
Purchase your goods from an online company with free delivery to UK residences – like Amazon or most British supermarket chains – and have them delivered to MCE's British-based depo, from which transport to Denmark will start at 500 kroner per consignment.
Perfect fit for private customers
"Your goods couldn't be in safer hands," assures Privett, a former squaddie who remembers his first day in the British Army well, when it finally dawned on him he was officially Private Privett – a moniker he finally outgrew three and a half years later when he was promoted to the rank of lance-corporal.
"Being a relative small company enables us to offer a personal service so the customers know exactly who's looking after their goods."
So if you're planning a homely Christmas in a foreign land with festive crackers, pudding and mince pies, or simply want to save money on the delivery of all your presents or even bigger one-off items, MCE can help you save thousands on the transport.
Find out more here and email martin@martincourierseurope.com
.