A widowed mother trying to provide a better life for her grieving children sounds like a good start to any week-night family drama.
Add an embezzled 117 million kroner, a badly-run horse business in Germany, a manhunt in South Africa, a tough childhood and a failed system, and you end up with 'Danish Crime Story: The Britta Nielsen Trial'.
On Tuesday, she finally took the stand, where she blamed the grief of losing her husband, the spiralling cost of her investments, a compelling addiction, and the state for making it too easy.
Behind with the books
It all started when her parents, both invalids, moved in during the mid-1990s and the Nielsens bought a house they couldn't afford.
Hubby detected a rat in 1997, but Nielsen continued after assuring him she would stop. Eight years later, his death gave her the perfect cover story: life insurance!
And it was all made so easy by a system that was six to eight years behind with its audits. Take a bow, the Socialstyrelsen health board!
Good for horsemeat
According to Nielsen, nothing is left. While 60.2 million kroner was spent in Denmark – she made 2,040 withdrawals between 1997 and 2018! – some 48.3 million left the country.
Most of it funded the horse-related businesses of her daughter Samina Hayat. None of the companies' assets – mainly horses for studding purposes – are of much value anymore.
All three of her children are charged with gross robbery, although they are only accused of helping Nielsen to spend it, not steal it.
If her children are prosecuted, their case will go to court next March. Their mother's trial resumes at 09:00 on November 22.
---
New Metro line enjoys good start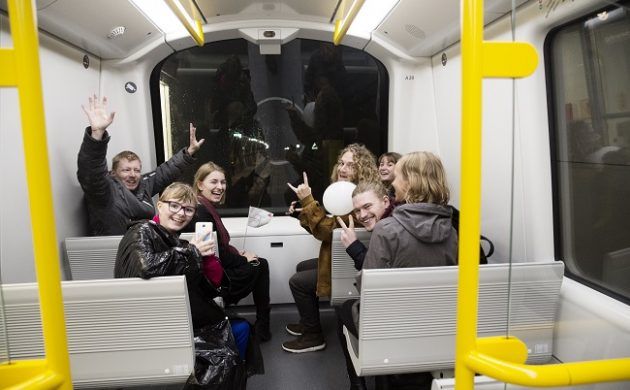 Since its opening on September 29, the new City Ring Metro line has been a success, with 4.1 million passengers using it during its first month.
With an operational stability of 97.5 percent – compared to 99.3 percent for the M1 and M2 lines over the same period – the line is "off to a good start", according to Henrik Plougmann Olsen, the head of Metroselskabet.
Testing the M4
Looking ahead, the Metro will be carrying out grinding work to reduce noise volumes on the City Ring line, as well as testing the M4 City Ring Nordhavn line, which will link Copenhagen Central to Nordhavn and open in the spring of 2020.
Meanwhile, the M1 and M2 lines set a new record in October with 6.3 million passengers. (CW)
---
Sydhavn square contention
Copenhagen Municipality's Technology and Environment Committee has stared processing the initial report regarding the housing construction project at Stejlepladsen in the city district of Sydhavn – a plan that has moved forward without consulting local residents. The behind-closed-doors decision has been met with local protests.
Arch plans postponed
Plans to redevelop the Bispeengbuen Arch, which straddles Copenhagen and Frederiksberg, have been suspended by ten years by Vejdirektoratet. The former VLAK government had promised a third of the 940 million kroner funding for plans that included demolishing the bridge and redirecting traffic to a tunnel.
Trendy district campaign
A new VisitDenmark campaign is encouraging more young foreign tourists to visit Vesterbro, Nørrebro, Østerbro and Frederiksberg. They are particularly targeting young urban professionals, aged 25-35, from Sweden, Norway, the UK, France and Italy. Thirty-second ads showing the perspectives of locals are doing the rounds via the likes of SAS.
Keep it closed off!
Lille Kongensgade, which runs parallel with Strøget before it reaches Kongens Nytorv, has been closed off to car traffic due to the construction of the City Ring Metro. And now politicians at City Hall are confident they can keep the road permanently car-free.
Assessing youth needs
Radikale leader Morten Østergaard recently toured part of Indre Nørrebro to assess the conditions faced by youths vulnerable to gang-related crime and violence. Østergaard intends to use his findings to earmark more funds for the youths in next year's budget.
Bridge's healthy profit
Freight and bus traffic increased across the Øresund Bridge over the first nine months of 2019, but the number of cars declined by 0.8 percent. Nevertheless, the bridge saw an increase of 16 million kroner in its operating profit.
Randy Ray is here
The Blue Planet aquarium has acquired the world's most prolific spotted eagle ray. The adult male fathered 39 rays at Royal Burgers' Zoo in the Dutch city of Arnhem. Adult rays can weigh up to 90 kilos and have a diameter of 180 cm.
Among the elite
For the fifth time in a row the 'Reuters Top 100 for The World's Most Innovative Universities – 2019' has confirmed DTU as the most innovative university in the Nordic region. DTU has risen from 57th to 48th.
Green deliveries
The transport company DHL is retiring a fleet of its diesel courier vans and replacing them with electric vehicles and cargo bicycles in central Copenhagen. DHL staff will carry out climate-neutral deliveries in a bid to cut DHL's CO2 emissions by half by 2025, and to zero by 2050.