General
Who will help Michael in the Philippines?
---
This article is more than 10 years old.
As the Philippines struggles to recover from the typhoon and all missing Danes have been found, one Danish citizen in critical condition is left without much hope in a local hospital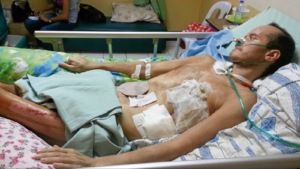 In Vicente Sotto Hospital in Cebu City, Philippines, 47-year-old Michael Christensen of the Zealand town of Maribo, lies with serious injuries sustained in a motorcycle accident two and half months ago. The hospital is in poor condition and has been under intense pressure after Typhoon Haiyan hit the Philippines. Christensen often lays in urine-soaked sheets and loud noise keeps him from sleeping at night.
He is missing some of his ribs and there is a hole through his chest leaving his heart covered only by a piece of skin that has been grafted on from his leg. He is completely unable to speak.
As he is not insured, it is limited what authorities can do to help him and a local charity and his relatives in Denmark are currently paying for his treatment.
READ MORE: UPDATE: All missing Danes now accounted for in the Philippines
Helped by European couple
Brian and Mirte Longridge of Northern Ireland and the Netherlands live in the Philippines. They encountered Christensen before the typhoon catastrophe while working with leprosy patients.
"He looks like a wreck and here is often a rotten smell by the bed," Mirte Longridge said. "His heart is bare and he still can't talk because he has a tube in a hole through his throat. The chief physician told me he had never seen a worse case surviving."
Since they found him in the hospital, the Longridges have been visiting him almost daily. Since Christensen is unable to speak, they communicate through gestures and via whatever Christensen is able to scribble on paper. The couple doesn't understand how his home country can leave him dying in a poor public hospital on the other side of the world.
"We visit there almost daily and feel hopeless," she said. "It is the only public hospital left in the area [after the typhoon] and it struggles with the demand of scores of people waiting in the emergency area. Christensen needs to be put in a good private hospital or flown to Denmark for plastic surgery, but there are no finances for that."
No insurance complicates case
The Foreign Ministry's citizen service, Borgerservice, recently dispatched a search and rescue team to the Philippines to locate missing Danes after the storm. But Borgerservice's head of office, Søren Vøhtz, said it is not the ministry's responsibility to bring Christensen back home.
"These situations are very unfortunate, but the Foreign Ministry has no statutory authority to pay for his medical treatment," Vøhtz said. "That is why we always try to tell travellers how important it is that they get travel insurance."
READ MORE: Search intensifies for last missing Danes in Philippines
When someone who is not insured is seriously hurt in a foreign country, Vøhtz said that the ministry in general can only help the wounded and his relatives by providing consular support and being their link to the hospital.
"We always try and help as much as we can, for instance by finding out if the relatives have funds in the bank or if they can use their pensions to pay for the treatment," Vøhtz said. "That is also what we have done in this case. But in the end it is up to local authorities to arrange a hospital transfer. We are not allowed to spend taxpayers' money on bringing him home."
Considering that the Philippines is currently rebuilding after being struck by a natural disaster, it also seems unlikely that local charities will be able to pay for Christensen to get transferred to a private hospital or brought back to Denmark.
Brian and Mirte Longridge are concerned about how Christensen will survive when the funds run out.
"I hope Denmark will open the compassion door and show mercy in this particular case, in which someone has been through two and half months of literal hell," Mirte said.