News
Taking the nuptial plunge from the bridge
---
This article is more than 8 years old.
More people are choosing to get married on the top of the Little Belt Bridge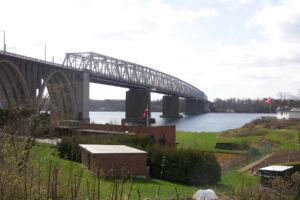 More and more couples are choosing to say "I do" 60 metres in the air overlooking Jutland and Funen from the top of the Little Belt Bridge (Den Gamle Lillebæltsbro).
Two couples will wed at the unique location in August, and one local municipality sees multiple promotion opportunities in the gimmick.
"This is a good marketing opportunity," Fredricia deputy mayor Susanne Eilersen told DR Nyheder. "We have the city and the forests, beaches and natural beauty that surrounds it."
Bridge walking
Earlier this year, the Little Belt opened as one of the first bridges in the world where someone could pay a fee to walk the bridge, opening up the opportunity for couples to get married at the top of the bridge.
Eilersen hopes that Fredericia will become as synonymous with the weddings as Ærø  and Christiansfeld.
"We see cities attracting citizens from abroad for weddings," she said. "We hope we can get the same kind of recognition because we can offer something unique."
The desire to get married on the bridge fits in with a recent trend to get away from the traditional marriage ceremony.
"Getting married at the top of the Little Belt fits in with the desire for a unique experience that is different from the classic wedding,"  Michael Noe, the co-owner of the wedding magazine bryllup.dk, told DR Nyheder.