News
Tissue manufacturer behind bicycle stunt
---
This article is more than 8 years old.
Copenhageners awoke to some fluffy bicycle seat modifications last week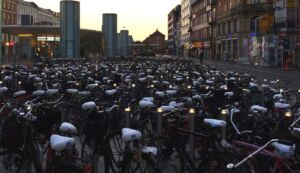 Were you one of the thousands of Danes who got an unexpected woolly bottom?  The stuntmen responsible for your speckled posterior have now come clean on Facebook.
Scores of Danes woke up last week to a strange sight: thousands upon thousands of bicycle saddles in downtown Copenhagen were covered in soft white wool.
From Rådhuspladsen to Kgs Nytorv, every single bike saddle had been reupholstered, and what's even more strange, the perpetrator, as caught by one bystander on camera, was seemingly a 6 foot-tall white lamb.
Fluffy Finish fun
A video going viral on Facebook right
now has all the answers: the strange happening was actually a stunt carried out by the Finnish toilet tissue manufacturer Lambi, which is currently celebrating a 50-year anniversary.
So rather than spreading soft vibes in the media, Lambi is directly targeting Danes with sore behinds in traffic, and the event-makers behind the stunt are thrilled to see the reception the stunt is getting online.
"Currently the video has been played over 40,000 times with about 230 likes and nearly 100 shares, so we're happy to see that people got excited rather than offended that we fiddled with their bikes", said Sara Qvist of Eventforce.