Things to do
Five have a wonderful time – with lashings of ginger-infused rum
---
This article is more than 8 years old.
Enjoying Japanese vibes and warm beverage-inspired cocktails at Fugu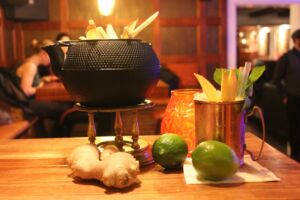 Visiting Fugu cocktail bar made me recall how back at high school, my friends and I always had this particular spot on the balcony of a 22nd floor building where we used to enjoy good drinks and a great view.
It was less about the place and more about the company and bond that developed, and when our very accommodating bartender, Ariel Sequerra, told us about how Fugu started, it really took me back.
Cocktails in great company
Freddy's Unique Garden Union (FUGU) originated through five good friends with a mutual appreciation for cocktails who would meet up in Freddy's garden. They would use the occasions to catch up, enjoy each other's company and experiment with new drinks.
When Freddy decided to move away, the friends were left with a choice: stop meeting up or find a new garden. Fortunately for Copenhagen, they chose the latter, but this time they wanted to share it with more than just their friends.
Hot beverage blends
FUGU specialises in and is very passionate about their cocktail blends of tea and coffee. They incorporate great flavours such as aromatic tea leaves and coffee beans into very unique creations.
During our visit, we had some fascinating cocktails that our tastebuds just couldn't resist.
First, Ariel served us the 'Zombie', a blend of four different rums, absinthe and passion fruit, served with a flame… literally. We were advised to be careful with this one as it has a high alcohol content due to the combination of all the rums.
We were offered the 'Gentleman's Iced Tea' right after, a ginger and lime-infused rum cocktail that was more on the spicy side. My friend was deeply impressed by this as she has a mad love of ginger. As for myself, I prefer my cocktails sweet and strong, so the 'Zombie' was definitely my kind of drink.
For other popular choices, ask for 'Obama's Kinda Russian' – Fugu's take on a 'White Russian'. Or if you like tequila, get the 'Avocado Margarita', a stunning combination of tequila, pepper and salt with falernum-spiced liquor.
Japanese inspiration
Fugu is located on Gammel Strand where the friends were lucky enough to find the right spot to have an outdoor area. The indoor bar is fashionably decorated with a Japanese-inspired theme that includes lots of wooden furniture, calming candles and a fish aquarium. It has a relaxing vibe – the mild lighting and music will suit any mood.
The patio is surrounded by fragrant lemon trees and lavender. It has a roof and heated lamps that accommodate customers who prefer to sit outdoors. It is also nicely decorated with wooden furniture and great lighting, and it has its own personal bar. It was very relaxing to have a drink there during our visit.
However, it does get crowded at weekends.
Nevertheless, while there are certainly more friends these days, it's pretty much how the famous five pictured it: a cool place to visit every week where you can enjoy great cocktails in good company.