General
At Cinemas: Daddy's home and you should stay there
---
This article is more than 7 years old.
Save your money for The Revenant, Steve Jobs and The Big Short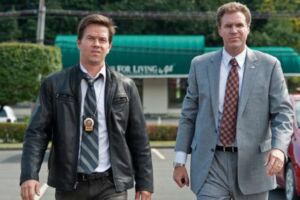 Art. Life. These are turbulent times. To reflect that, Vin Diesel is starring as The Last Witch Hunter – the only thing that stands between humanity and the combined forces of the most horrifying witches in history. To be quite honest, I can't promise much social commentary from this masterpiece. I can promise some casual, misguided misogyny and that it won't actually be a masterpiece. It's on a limited theatrical release from the 14th.
Also out this week is Daddy's Home. Will Ferrell plays Brad Whitaker, a radio host trying to get his stepchildren to love him – and call him Dad – when the children's infinitely cooler and more attractive biological father (Mark Wahlberg) shows up. Ferrell and Wahlberg's last outing together, The Other Guys, was only borderline watchable. This is reportedly much worse.
Finally, Paolo Sorrentino returns, riding the success of his Oscar-winning The Great Beauty, with Youth – a film about old, white, rich, famous men who have still not come to terms with their adolescent urges. See this week's review.
If you're looking for commentary on our times, you're more likely to find it at Cinemateket. On Saturday at 18:00 there's a special screening of Waltz with Bashir, a documentary in which Israeli film director Ari Folman interviews veterans of the 1982 invasion of Lebanon in order to reconstruct animated memories of the conflict. The film will be presented by psychologist Karin Riber. And a debate about post-traumatic stress disorder will follow.
On Friday evening at 21:30, there's animation of a different slant with Daft Punk's Interstellar 5555 – the continuation of the story which began in the French robot duo's music videos 'One More Time', 'Aerodynamic', 'Digital Love', and 'Harder, Better, Faster, Stronger'.
Also on Saturday, the celebration of the late Frank Sinatra's 100th birthday concludes with a screening of Von Ryan's Express at 21:00 (dfi.dk/Filmhuset).
Over at Huset tonight (Thursday) you can immerse yourself in a double bill of classic noir: WWII thriller The Glass Wall (1953) and gangster drama Tight Spot (1953). The doors open at 18:00, the program starts at 19:00 and tickets cost just 50kr (huset-kbh.dk). (MW)