General
About Town: Barry's battle of the babble
---
This article is more than 7 years old.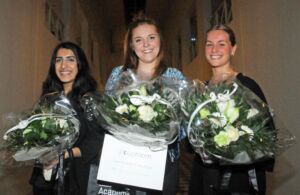 The winners (top) of 'A War of Words', an annual speech competition hosted by Copenhagen Business School, were all smiles.
This year's event (left) was organised by Barry McKenna (second left), who works in the CBS's Department of International Business Communication, but is better known to our readers as the director of countless That Theatre, Why Not Theatre and CTC productions.
Among the judges were lecturer Ida Borch (most left) and actress Sue Hansen-Styles (most right) has taken direction from McKenna many times – but not on this occasion.
That would have been cheating.