Food & Drink
Cosy scene, cool like Dean, this is a café with a cause
---
This article is more than 7 years old.
Come to Café Retro where good things happen and are served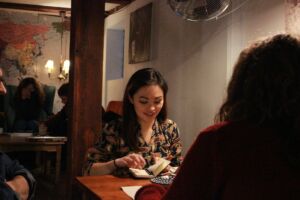 On most Fridays, I would normally find myself celebrating the start of the weekend with a beer in my hand. But last week, I had to pass. The freezing weather meant that spending a lot of time outdoors wasn't even a choice. So right after work I decided to visit a cosy little cafe with a friend just to chat and relax.
Café Retro, which also has a location in Nørrebro, is conveniently located just off Strøget, one of the busiest streets in Copenhagen, in an area full of other pubs and cafes. Situated in an old red building with a blue and red sign, it's hard to miss.
Warm community, big hearts
As we walked in, we were immediately struck by the café's delightful and home-like atmosphere. We were greeted with happy faces from the bar where we met Felicia Gheorghe, Café Retro's public relations manager. She took the time to talk to us about the cafe and what it stands for.
The non-profit cafe was founded 11 years ago by the Retro Association. All of its profits are given to support projects in Africa every year.
They have three projects at the moment: KONO, React and Dreamtown. Mainly based in the west African country of Sierra Leone, the projects primarily help to develop educational institutions with the aim of reducing poverty and providing a better future for the youth.
And just when we thought we couldn't be more impressed Gheorghe added: "The cafe solely runs from the contribution of our volunteers, me myself included. We have a growing community with about 60 members."
It truly was heartwarming to listen to. And inspirational too: 50 percent of the volunteers are international, and they are always welcoming newbies to the flock. While English is widely spoken, it is a great place to practise your Danish.
The best chai latte in town
I took a great piece of advice and ordered the chai latte – a hard beverage to beat on a cold Friday evening. My good pal, meanwhile, decided to go for a classic capuccino. We were both impressed when the drinks were served as they had a lovely froth design that says 'Retro' on it. We certainly did not regret our choices.
The chai latte was, no exaggeration, probably the best one I've had in a while. It was a perfect mixture of sweetness, cream and spice. All chai latte lovers should give it a try.
Their hot drinks are definitely great picks, but if you feel like something else, don't worry as there are lots of other beverages to choose from, including juices, sodas, a wide selection of wine, beers on draft and by the bottle, and also popular cocktails. Some pastries and snacks are available too, including muffins, cakes, spicy nachos and crisps.
Your ideal living room
Ever imagined the perfect living room? You picture comfortable couches where you can just curl up under a blanket. And right in front of it would be a beautiful fireplace to help you through the cold winter nights – surrounded by lights that are just bright enough but still calming. If you fancy the idea, visiting Café Retro will not disappoint.
As well as the very cosy vibe it gives off, it is also very trendy. decorated with great taste and style it has art paintings all over its walls from previous exhibitions the café has staged. The furniture is wooden and lends a cabin-like look to the place. A foosball table, board games and books are made available to entertain the customers too.
And lastly, to make it a memorable experience for everyone, their hard-working volunteers also organise every kind of event you could possibly think of: open mics, speed dating, art exhibitions, food workshops, quiz nights, jazz parties and more other fun stuff. Sometimes in Danish, sometimes in English, often mixed, the organisers make sure nobody misses out on the fun.
If you're interested, don't hesitate to visit their Facebook page or website to see the list of upcoming events!