General
Tickets selling out fast for CTC panto!
---
This article is more than 7 years old.
The Merry Men can't keep giving out tickets to the poor, get them while you can.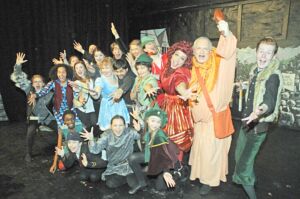 On January 20, the Copenhagen Theatre Circle premiered their British pantomime performance of 'Robin Hood and the Babes in the Wood'.
And right now, one week later, the only tickets available are for the show on Friday at 19:00, so make sure to pick up your tickets as soon as possible as they have completely sold out every other night.
It only makes sense considering the review written at cphpost.dk. The tickets are available to purchase via ctcircle.dk, so pick them up before they disappear!
The entirety of the cast was clearly excited to perform the premiere of their show, and it shined through in their acting. Particularly Robin Hood and his Merry Men (bottom centre) and the dame, Nurse Mollie Coddle (Josh Shires – left) were excellent throughout the performance.
This unique and light-hearted rendition was quite enjoyable, with the Merry Men running around and consistently failing to the bad-guy bandits the Sheriff of Nottingham (top centre) would want us to believe they are.
And in case you were worrying, the 'Babes in the Wood' aren't the dames, but rather King Richard's son and daughter – taken under the wing of Robin Hood.
The action-packed night ran for about two and a half hours with a break in between, but that didn't restrain the audience's excitement nor their willingness to partcipate in the traditional pantomime style of the show.