News
Huge development project coming to Copenhagen
---
This article is more than 7 years old.
Paper Island to get a whole new look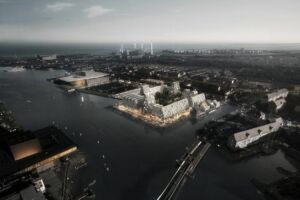 The pension firm Danica is among the investors in a massive billion-kroner development project on the central Copenhagen island of Christiansholm, which has in recent times become known as Papirøen (Paper Island).
The development of Paper Island – located just across from the Royal Danish Playhouse and next to the Copenhagen Opera House – is expected to cost around 1 billion kroner.
"First a local plan needs to be made, and then we are ready to build," Peter Mering, the head of Danica's real estate department, told Børsen newspaper. "Depending on the amount of progress made, the project will start in 2018 and finish by 2020 or 2021 at the latest."
READ MORE: Copenhagen named 'best city in the world' by design magazine Wallpaper
Functional warehouses
Mering contended that the Paper Island is one of Copenhagen's best locations, pointing to the island being the capital's fifth most-visited tourist attraction thanks in large to the Street Food concept and Experimentarium.
The project, which also features the two real estate investors Nordkranen and Unionkul Holding, has been designed by the Danish/German architect firm Cobe and there is 45,000 sqm available for development.
Cobe has decided to keep the functional warehouses on the island – which until recently were used for paper storage – and utilise them for food, art, fashion and culture events. Everything will remain on street level, while additional housing will be built above the warehouses.