Things to do
Small beer: More than a celebration, this is domination
---
This article is more than 7 years old.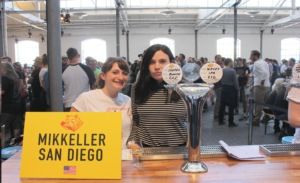 Ahead of this weekend's long-established Copenhagen Beer Festival, the word on every beer connoisseur's froth-covered lips is Mikkeller
Well-established brewers serving samples of fan favourites alongside lesser known experimental brews was the order of the day, as the fifth annual Copenhagen Beer Celebration (CBC) descended on Øksnehallen in Vesterbro last weekend.
Speaking to both brewers and attendees, there was a sense that this is one of the big ones – not just here but in the ever burgeoning craft beer industry in which Denmark, thanks to the likes of the festival's chief organiser Mikkeller, is becoming a serious player.
10 am – beer o'clock
The first noticeable thing upon arriving was not the 65 brewers – along with food sellers, coffee shops and a tattoo parlour – which had set up stalls for the event.
It wasn't that the brewers in question had come from, all over the world. And it wasn't even the variety of beers, wines and meads on offer, which ranged from traditional IPAs to strange, fruity concoctions from Sweden.
No, the most noticeable thing was the queue to get in. It must have snaked backwards for over a mile. And while this was for the first session of the festival, we're talking 10 am on a Friday, so it was unlikely to be the best attended of the weekend.
Dedicated to the brew
Øksnehallen, a fairly spacious venue, was absolutely packed. The air was filled with noise and a mass of bodies further heated the already warm temperature. Each stall was surrounded by people waving small tasting glasses and awaiting samples.
So Copenhagen is not only the home of one of the world's most prominent craft beer festivals. It is also apparently full of beer connoisseurs so dedicated they are prepared to skip work and dive in at the deep-end before their breakfast has even settled.
"We love Denmark"
Denmark's success is also being acknowledged abroad. Russ Clarke, the North of England sales manager for one of craft beer's greatest success stories, Brewdog, underlined Denmark's reputation in the world of craft beer.
"We absolutely love the Scandinavian scene," he told the Copenhagen Post Weekly. "Especially Denmark – it's phenomenal here."
The scale of the festival speaks volumes for Denmark's burgeoning beer scene. According to Bryggeriforeningen, the Danish brewers' association, 1,298 new varieties of beer were brewed in Denmark in 2015, an increase of over 8,500 percent this century.
The region's leader
Henok Fentie of Swedish brewery Omnipollo was another exhibitor present at the celebration who believes the Danes are in charge on the Scandinavian brewing scene.
"Denmark has been in the lead for many years and I think that is still the case – it's very hard to catch up," he said.
Leading the charge
Simon Toft Hansen, the owner and head brewer at Aarhus-based Ølsnedkeren, attributed the success to the organiser Mikkeller and its success with the CBC.
"Because of things like CBC, there's a lot of people from around the world coming to Denmark to enjoy the Danish brewing scene, he said.
More about quality
Hansen believes a change in drinking culture coupled with a growing appreciation amongst the younger generation means the craft beer scene will continue to flourish in Denmark for many years to come.
"When I was young, I learned about beer with Carlsberg," he said.
"I had to discover beer could be a lot more later on. We would go out and just drink pilsner. Now people prefer two or three quality drinks to nine or ten boring beers."
Enduring appeal
This isn't a flash in the pan as Danish breweries are surviving too. Only three closed their doors last year, of which one was a recent launch.
The rise of the craft brewery has certainly seen the bigger players take note – both in Denmark where Carlsberg has launched its own range and started forging partnerships, and further afield in the leading craft beer nations.
Mikkeller's expansion into the US could be the first of many.
---
If Willy Wonka made beers …

Along with the more traditional, hoppy affairs, the Copenhagen Beer Celebration also played host to all manner of bizarre creations.
Here, in no particular order, are five of the weirdest beers we encountered.
Brewski: 'Mr Candy King'
Brewski specialises in fruit-based beers, and its owner and head brewer Marcus Hjalmarsson explained how he ended up using fruit instead of hops in his brews.
"I couldn't get the best hops from the US, so I started to experiment with fruit because I wanted intense tropical notes," he said.
Brewski were serving up 'Mr Candy King', a raspberry and lime berliner that strikes your tastebuds with a far wider range of flavours than the label suggests.
Omnipolo: 'Mango Smoothie'
Henok Fentie wanted to be a pastry chef. Instead, he ended up becoming Stockholm-based Omnipollo's head brewer and his culinary roots clearly play a part in the brewing process.
"One of the beers is inspired by a sort of pecan mudcake," he said.
The 'Mango Smoothie' is an IPA with a unique method of delivery."We pass it through a slush ice machine to get a frozen foam on it," said Fentie.
Given the nice spell of weather in Copenhagen recently, there may be a solid demand for mango IPA smoothies in the near future.
Bells: 'Mango Habanero Oberon'
On the other side of the hall, we encountered Ohio-based Bells, and boy was its 'Mango Habanero Oberon' something special.
But it's also not as harsh as it sounds. The addition of the chilli gives it a mild burning sensation, similar to ginger, and accompanies the underlying mango flavour of the beer well.
Laura Bell, whose father founded the brewery in 1985 during the early days of the craft beer movement, was pleased with how it turned out.
"It's like you're eating a chilli pepper, but the balance is something we like a lot," she said.
Jackie O's: 'Cucumber Ginger'
Ohio-based Jackie O's 'Cucumber Ginger' is an extraordinarily complex berliner.
Loaded with an unpronounceable bacterium and fermented for three months before cucumbers and ginger root are added to the mix, its 'Cucumber Ginger' comes out surprisingly refreshing.
It is also a fan favourite, so Jackie O's features it at almost every beer festival it attends.
As brewer Brad Clark explained: "We always bring it to beer festivals, especially these more elite ones. Mainly because it makes people smile."
Magic Rock: 'Bearded Lady Cask'
'Bearded Lady Cask' is a barrel-aged beer with a difference, as it has not actually spent any time in a barrel.
According to chief brewer Nick Zeigler, Magic Rock uses a combination of bacteria and yeast to achieve the sort of flavours barrel-ageing achieves without the additional expense and effort.
"We're always trying to push the boundaries," he said.
"We're always interested in trying something new and developing, so we try not to reject any natural tool."