Things to do
Copenhagen Cooking & Food Festival 2016
---
This article is more than 7 years old.
Sharpen your knife and prep your appetite, your pallet is about to experience heaven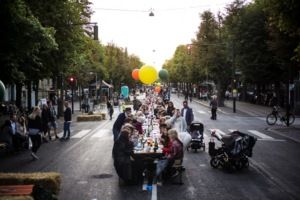 From August 19-28, Copenhagen Cooking & Food Festival will be celebrating the culinary culture of Copenhagen and Denmark as fantastic food destinations.
Over the past 12 years Copenhagen Cooking has developed into one of the largest food festivals in northern Europe. This year it is going to be bigger than ever as Copenhagen Cooking has joined forces with Food Organisation of Denmark to organise the festival together under the new banner: Copenhagen Cooking and Food Festival.
The festival is for everyone who loves food and it presents offers 120 unique events during the ten days. Around 100,000 visitors participate every year and help celebrate Nordic cuisine, the season's production and other great culinary experiences.
Breaking the new
Over the past 15 years, Copenhagen has gone from being a gastronomic nobody to solidifying its position as a gastronomic capital and New Nordic Cuisine hot spot. This development stems from innovative thinking and the courage to embark on new pathways led by a handful of pioneers.
Copenhagen Cooking & Food Festival celebrates this development by introducing 'Breaking the New' as an underlying theme for the festival. The theme focuses on highlighting new trends, foods, co-operation and production methods in the gastronomic world.