News
Denmark's biggest wastewater basin nearing completion
---
This article is more than 7 years old.
Underground pool will prove an effective weapon against pollution and flooding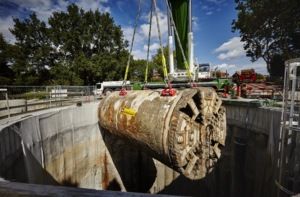 Measuring 3.4 km in length, Denmark's soon-to-be newest underground wastewater basin is the nation's largest.
Located under Vigerslevsparken Park in Valby, the basin has a capacity of 29,000 cubic metres of water – the equivalent of 12 Olympic swimming pools.
The basin will be an effective weapon against the pollution of the Damhus stream, which flows through the park. It will ensure clean water in the stream and reduce the risk of flooding during heavy rain or storms.
"With the new tunnel we are taking a big step towards cleaner water in the stream," said Kent Søndergård, a spokesperson for the Greater Copenhagen Utility company HOFOR.
"The move will benefit residents and park guests who have been bothered by the odour emanating from the many sewage pipes in the area. Furthermore, we are increasing the capacity of the entire sewage system out here, and that reduces the risk and flooding during storms."
READ MORE: Denmark's bathing water continues to getting cleaner
Keeping CPH clean
The basin is actually a massive tunnel, about the size of a metro tunnel, and construction started on it in 2013 to the tune of 500 million kroner. It is expected to be ready for use sometime during the summer of next year.
This basin will be the 13th of its kind that HOFOR has built underground in Copenhagen. In total, the basins have a total capacity of 88 Olympic pools and are a major reason why the Danish capital has one of the only harbour areas in the world clean enough to swim in.
This is because the basins prevent waste water from spilling out from sewage systems. The other 12 basins are located beneath Østerbro, Nordhavn, Sankt Annæ Plads, Vesterbro and Amager.