InOut
First improv comedy theatre opens in Copenhagen
---
This article is more than 7 years old.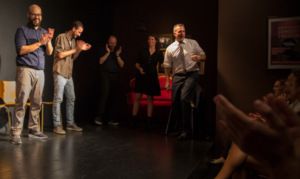 Last week on Thursday, the US ambassador Rufus Gifford was in attendance at the grand opening show of Denmark's first improv theatre. The city centre event included top performers from the ICC theatre in Copenhagen and the Upright Citizens Brigade Theatre in New York.

A great honour
"It is so exciting to see this come full circle, and as I won't be here long to serve as ambassador it is a great honour for me to be here tonight," said Gifford in his speech.
"Being ambassador is also about cultural exchange. When I was pitched the idea of a sort of comedy that is typically American I thought: 'Why not? Let's show as many people in Denmark a little more about this.'"
Ad-libbing ambassador
The show opened with an original and entertaining performance that merged monologues from the ambassador, based on random topics shouted out by a member of the audience, and improvised performances linked to these topics.
It was remarkably hilarious and entertaining!
Given the improvised nature of it and the constant excitement of the audience members to laugh at the next joke, it is a form of art that blurs the line between the audience and performers. The result of this on Friday was a highly witty and involving show.
Future performances at the ICC will be open to the public and regularly held every Monday, Friday and Saturday at 8pm. It is a chance to explore a new form of art and add improv comedy to your weekly routine.
As the ambassador concluded: "No matter what you are doing, you always have to allow time to laugh, smile and have fun. And creating that balance is incredibly important."
For more information, you can visit the ICC website at www.Improvcomedy.dk