News
News in Digest: More like once-in-a-decade
---
This article is more than 6 years old.
Rise in sea level no longer a rare occurrence, warn experts as storms and other phenomena continue to batter Denmark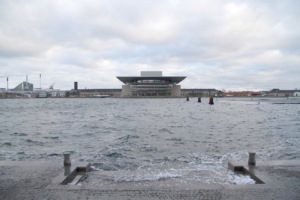 Hurricances, floods, earthquakes. It sounds like the start of 'Flash Gordon', but it was in fact just the first month of winter in Denmark, even if the quake in the North Sea was a mere 3.9 on the Richter Scale and three to four times closer to the UK than Denmark!
Sea levels soar
Still, it's been pretty dramatic on home soil. National weather forecaster DMI described a dramatic rise in sea levels on January 4 and 5 as a "once-in-a-century" event, but as flood waters begin to subside across the nation, experts warned that this kind of event was becoming the norm.
Levels rose as high as 177 cm above sea level in southern Denmark, where the worst damage was sustained, and 157 cm just south of the capital where the city districts of Amager and Dragør were flooded.
The phenomenon was the result of a change in wind direction that blew excess amounts of seawater from the Skagerrak and Kattegat, where it had been pushed by winds from the northeast, into the Baltic.
Disaster averted
At one point Denmark even called on its neighbours Sweden and Germany for emergency assistance. But in the end, disaster was averted by sensible preparation by emergency departments, police, military personnel and volunteers.
Stormrådet, the Danish storm council, and the country's biggest insurance companies, Tryg and Codan, have both reported significantly fewer claims for damage than those that followed the 2006 floods.
"People are getting better at taking care of their houses, and the emergency agency is much better at fighting flooding with its new water tubes," Mogens Hansen, the head of Stormrådet, told DR.
Climate change's reach
"The historically abnormal weather is a reminder that climate change is in full vigour," Jens Hesselbjerg, a climate professor at the University of Copenhagen, told Metroxpress.
"We can't rule out that climate change's effect on flooding is accelerating even more swiftly than we had anticipated."
Kirsten Halsnæs, a professor of climate and economy at the Technical University of Denmark, concurred. "What we called a 'once-a-century' occurrence took place in 2006 and again now," she added.
According to a report from 2011, the 10 areas in Denmark most in danger of seeing floods are Aabenraa, Fredericia, Holstebro, Juelsminde, Korsør, Køge Bay, Nakskov, Odense Fjord, Randers Fjord and Vejle.
Another flood strategy
Meanwhile, despite its reputation for flood prevention, Copenhagen has unveiled yet another strategy to protect the capital in response to the January 4-5 floods.
The city wants to ensure that the cost of any future flood damage does not exceed 19 billion kroner, and it wants more state liability for damage – particularly along the coastline.
Storms queuing up
In other weather news, the January 4-5 floods were preceded by 30 metre per second gale-force winds a day earlier that hit the west coast of Jutland, Funen and Zealand, along with Lolland and Bornholm.
The hurricane-strength Storm Urd similarly battered northern Denmark on December 26, bringing with it wind speeds of up to 37.8 m/s, closing bridges and cancelling ferry services. Nobody was killed, but plenty of trees were felled. Tryg reported hundreds of claims.
At the time of going to press, yet another storm had been forecast for Wednesday.
READ MORE: https://cphpost.dk/news/big-freeze-descends-upon-denmark.html