General
Coming up Soon: Learning to cook Italian, Japanese or Indian cuisine
---
This article is more than 6 years old.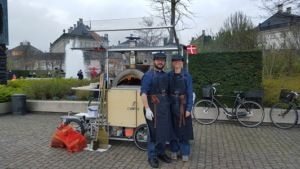 Are you ready for a weekend full of fun? Flydende By invites to the Trash Olympics, where competitors build floats out of recycled material. There are also food stalls, good music, and workshops for the little ones and spectators
(March 10-12; Trash Olympics, Papirøen, Trangravsvej 14, Cph K)
Interested in acquiring new cooking skills? Then listen up, as there are various classes for food lovers and wannabe chefs. If you choose Italian, Japanese or Indian, don't forget to sign up!
For the Ramen Cooking Class: (March 10, 18:00; Oiran Madhus, Slagtehusgade 11B, Cph V; 270kr; oiran.dk)
Pizza class with Bike and Bake: (March 1, 17:00; Eataly Copenhagen, Illum, Østergade 52, Cph K; 650kr; eataly.dk)
Indian Yogic Ayurvedic Cooking Workshop: (Feb 24, 17:00; Health Copenhagen, Badstuestræde 13, Cph K; 199kr; hotyogacph.dk)
Are you interested in exchanging your ideas about digital publishing? Then come and join this meetup of local content makers and listen to the publisher of Timegeeks Kristian Haagen (March 1, 18:00; Issuu, Gasværksvej 16, Cph V)
Are you a book lover? Then join the club and discuss 'Havana Black' by Leonardo Padura with other literature enthusiasts while drinking a nice cup of something (Feb 25, 16:00; Paludan Bogcafé, Fiolstræde 10-12, Cph K)
Are you interested in how data could be used for public governance? Then join the ITU for a public talk, but don't forget to register! (March 9, 11:30-13:00; ITU, Auditorium 3, Rued Langgaards Vej 7, Cph S; itu.dk)