News
Meeting God in a very special way at night
---
This article is more than 6 years old.
Danish churches are increasingly staying open during the night hours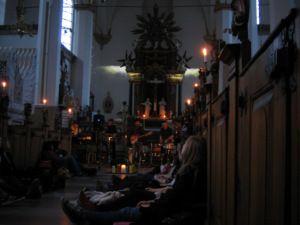 Church-going is not just a daytime activity reserved for Sundays. A survey carried out by the diocese of Copenhagen has found that so-called night churches have spread to 25 cities and towns, from Nykøbing Falster to Thisted in Thy.
READ ALSO: News in Digest: City churches changing with the times
"Being in a church at night is a very special experience," 61-year-old Ellen Brokhøj told TV2 Nyheder. She often takes advantage of the fact that Holsterbro Church is one of those open at night.
"It's the sense of peace that you get during the evening," she added. "On the one hand, you are part of a fellowship, on the other, you are also alone with God."
Holsterbro Church is open between 20:00 and 23:00 most Fridays. The idea is to provide an alternative to the high mass, which is the traditional Sunday service, vicar Erik Ladegaard explained.
For the quick more than the dead
"It is, after all, our duty to provide a church for people who are alive today," he told TV2 Nyheder. "Some of them don't feel that the high mass fully encompasses their spirituality."
If you go into the church on a Friday after 20:00, you can just sit alone in silence or you might light a candle or have a chat about a biblical text.
In this way, the congregation plays a more active role than normal, said Ladegaard.
Meeting the church in another way
And this is certainly one of the attractions of the late service, according to religious sociologist Jes Heise Rasmussen from the University of Copenhagen.
"It allows a different way of meeting the church," he told TV2 Nyheder.
According to Rasmussen, this chimes in well with the desire of many priests to soften the image of what might be seen as a stiff, formal church. At the same time it allows the church to tailor its message to the people who turn up.