Activities
October Events: Trinkets, tastings and terror
---
This article is more than 5 years old.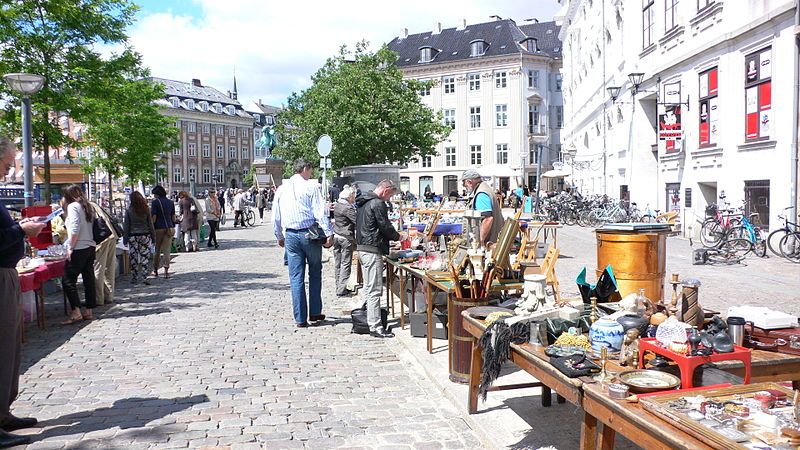 Improv Comedy Copenhagen nights
weekly shows Wed-Sat 20:00, stand-up Sun 20:00; Frederiksholm Kanal 2, Cph K; 100-125kr
The Byens Bedste winner Improv Comedy Copenhagen offers a staggering five English-language shows a week. The pick right now is 'Murder of Crows', a film noir-inspired show on Friday nights that includes Adrian Mackinder.
Svalernes Market
Sat 10:00-15:00; Nattergalevej 6, Cph NV
This year-round flea market is a favourite among locals. It offers a variety of goods from cute household items to retro clothing and art. It is a great way to spend a Saturday exploring. (WM)
Fredriksberg Market
Sat 09:00-15:00, through Oct; Smallegade, Frederiksberg
Located close to Frederiksberg City Hall, this flea market is a great place to spend time and find bargains. It offers a variety of items from clothing to antiques. (WM)
Gentofte Market
Sat 08:00-14:00, through Oct; Bregnegård 2, Charlottenlund
This popular market is an amazing place to find great deals. Its collection of high-end brands sold at low prices includes clothing, antiques, furniture, books and toys. (WM)
Torvehallerne Food Market
Mon-Thu 10:00-19:00, Fri 10:00-20:00, Sat 10:00-18:00, Sun 11:00-17:00; Frederiksborggade 21, Cph K
Torvehallerne's 60 stands make it a great place to grab lunch. A popular destination among tourists, the market offers everything from fresh produce and delicious meals to gourmet sweets. (WM)
Blue Hall Antiques Market
Sat-Sun 10:00-16:00; Ved Amagerbanen 9, Cph SV
The Blue Hall is an indoor flea market that includes a cute café. It is lined with stalls featuring furniture, jewellery, ceramics and art. It is a great way to spend some time wandering around looking for home decorations. (WM)
Culture Night
Oct 12; 17:00-05:00; various locations; 95kr; kulturnatten.dk
Copenhagen's annual Culture Night kicks off the autumn break, offering children and adults hundreds of events over the course of just one night. Experience Copenhagen in a different light and see places you would not normally get access to, when hundreds of museums, churches, exhibition halls, art galleries, humanitarian organisations, and political and cultural institutions open their doors to host cultural events. (LG)
Halloween at Tivoli
Oct 12-Nov 4; Sun-Thu 11:00-23:00, Fri-Sat 11:00-24:00; Tivoli, Vesterbrogade 3, Cph V; tivoligardens.com
Bring your children to Tivoli for Halloween and go exploring among the many beautiful decorations. The little ones can go on a treasure hunt and Halloween rides and whoop as Rasmus Klump creates Halloween fun on an open-air stage. (LG)
Oyster Week
Oct 12-21; various venues; oysterweek.dk
FOOD (Food Organisation of Denmark) invites you to take part in Oyster Week. This event celebrates the oyster, one of the exquisite ingredients of the rejuvenated Nordic cuisine, which are most commonly caught in Limfjorden and the Wadden Sea.
Black Night
Oct 19, 23:00-05:00; Søhesten, Sølvgade 103, Cph K; ticket price TBC
Enjoy a dense atmospheric mix of electronic percussion, synthesisers and late '70s post-punk at this party. Embarking on a journey through time and space, this DJ Club plays forgotten tunes from the synth era. (SM)
Mix Copenhagen
Oct 27-Nov 5; various cinemas; mixcopenhagen.dk
A regular fixture since 1986, this LGBT film festival packs a rich schedule of Danish and international movies.
Danish History for Children
Oct 13-21, open Mon-Sun 10:00-17:00; Frederiksborg Slot, Hillerød; 75kr, under-15s: 20kr, under-6s: free adm
The Museum of National History has a whole department especially for children called 'Danish History for Children' in the old wine cellar of the castle. Meanwhile, the exhibition 'Christian IV – child and king' tells the story of the famous king's childhood. Other activities include learning to write with a quill and dressing up in costumes. (LG)
Copenhagen Dining Week
Oct 14-21; various locations; 120-1,500kr, diningweek.dk
More than 25 Copenhagen restaurants are bringing their best food to the table in this dining week. From finger-food to grand six-course meals, the festival will display the diversity and range of Nordic cuisine. (AC)
Oktoberfest at Brus
Oct 20, 16:00-03:00; BRUS, Guldbergsgade 29F, Cph N; free adm
Tyrolean music and schlager hits fill the room as people sip German beers served in half-litre glasses brewed specially for the occasion. This is a second chance to celebrate Oktoberfest in Denmark! (SM)
Copenhagen Blues Festival
Oct 24-28; various times and venues; copenhagenbluesfestival.dk
It's autumn, and once again it's time for 'Blue Copenhagen'! Ahead of the festival's 18th edition, blues fans are invited to visit the city's many clubs and venues for a week of world-class music, which will include the best homegrown artists from Denmark. (LG)
Beethoven and Schubert
Oct 25, 19:30; DR Koncerthuset, Ørestads Boulevard 13, Cph S; 73-500kr, drkoncerthuset.dk
The Danish National Symphony Orchestra is performing Ludwig van Beethoven's 'Piano Concerto no 4' and Franz Schubert's 'Symphony no 4 in C minor' at the picturesque DR Koncerthuset. (AC)
Kink Film Festival
Oct 25, 19:30-22:30; Husets Biograf, Rådhusstræde 13, 2th, Cph K; 70kr
A mixture of intimate, funny and hardcore short films celebrate all manner of kinkiness at this two-hour film festival. After your fix of gay orgy fantasies and rubber fetishist pioneers, you might be glad to know the bar will be open afterwards.
Red Bull Silent Disco
Oct 26, 20:30-03:00; Studenterhuset, Købmagergade 52, Cph K; free adm
Choosing between two different channels, you and your friends can put your headphones on and dance the night away in a silent room filled with students from all over Copenhagen. (SM)
Copenhagen Book Forum
Oct 26-28; Fri 10:00-19:00, Sat & Sun 10:00-18:00; Bella Center Copenhagen, Center Boulevard 5, Cph S; 150kr, under 12s: 60kr (free on Friday); bellacentercopenhagen.dk
Meet local and international authors and publishers and enjoy an exciting program of interviews, lectures, book signings and new book releases. (LG)
Spooky Symphony
Oct 27, 19:30; DR Koncerthuset, Ørestads Boulevard 13, Cph S; 90-160kr, drkoncerthuset.dk
Together with the Amager Children's Choir, the Danish National Symphony is performing its take on centuries of music dedicated to Halloween. Experience the music of Harry Potter and the sounds of skeletons, trolls and spirits at this family-friendly event. (AC)
Copenhagen Coin Fair
Oct 28; 10:00-16:00; Scandic Hotel, Vester Søgade 6, Cph V; 80kr, under-18s: free admn; cphcoinfair.dk
The north's biggest coin fair celebrates its 10th anniversary this year with coin dealers and participants from Scandinavia, Switzerland and Germany attending. (LG)
Halloween on Jægersborggade
Oct 31, 17:00-19:00; Jægersborggade, Cph N; free adm
Join in the fun at Jægersborggade for an evening of Halloween-themed events, bites, drinks, competitions and more. There's plenty for both kids and adults to do! (LG)