News
Love is in the air, as couples try to beat new stricter marriage criteria for foreigners
---
This article is more than 5 years old.
Get me to the church on time – or at least before they change the rules for foreign couples marrying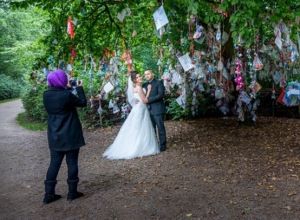 Next year the law is going to be tightened up when it comes to foreigners marrying in Denmark.
This step has been taken because of a number of cases in which the system has been abused to facilitate proforma weddings to allow non-EU citizens to fraudulently obtain residence in the EU.
READ ALSO: Organised crime involved in facilitating sham marriages to obtain EU residency
Runaway brides?
The threat of restriction has led to a veritable run on a number of municipal registry offices.
Tønder Municipality received so many applications from would-be happy couples that they decided earlier this month not to accept any more, reports DR Nyheder.
"If we accepted all the couples, we would simply drown in applications. Within the last couple of months up until we decided to close the list, the number of applications was rising sharply," said Tønder's registrar Heidi Jensen.
READ ALSO: More foreigners tying the knot in Copenhagen
The same trend has been noted in Aabenraa Municipality – especially after Tønder closed its list.
"We received 80 applications in one week when we normally get 10. We've had so many applications that we don't have any more vacant slots this year," said Lisbeth Klift Jørgensen, a registrar in Aabenraa.
More scrutiny
Although it will still be possible for foreigners to get married in Denmark, from next year there will be a new specialist centralised body to vet foreign couples when neither party is a Danish citizen and when they don't have the right to permanent residence in Denmark.
The body will be able to reject applications that they think are false or based on false documents.
"We expect that there will be a period with a lot fewer applications because it can take time before the new system is up and running. We expect that couples will risk being faced with more stringent demands," said Jensen.