Sponsored content
5 places you must visit in Copenhagen
---
This article is more than 3 years old.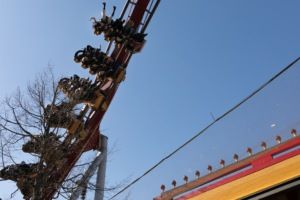 Copenhagen is the capital of Denmark, and it is no coincidence. Copenhagen is the largest city in Denmark, and at the same time it is a city that never sleeps. Copenhagen is always busy, and there are many cool things to do when you visit it. So, there are almost no limits to what you can do in Copenhagen, but perhaps there is another thing that puts an end to your urge to experience and explore the city; namely, your wallet. So, if you need a little extra money to create fun memories in Copenhagen, you can advantageously choose to play online casino. That way, you can easily and quickly earn an extra penny, and as a bonus, it is super entertaining at the same time. However, you must never let the urge to gamble take over your life. Should this be the case, there is professional help to be found here. Otherwise, you can read below and get 5 tips for places that are worth visiting in the big city.
---
1. Christiania
Christiania is the free city in Copenhagen and has often been the cause of many debates due to the well-known Pusherstreet. However, this does not make the place a less interesting place to visit and you will quickly discover that Christiania is far more than just Pusherstreet. At Christiania, the landscape is beautiful, the atmosphere is relaxed, there are art galleries, music scenes and exciting places to eat. Walking around the paths between trees and among alternative houses or sitting by the lake will not disappoint you. As you walk around Christiania, you can think about how the world-famous singer Lukas Graham grew up in the city and has lived there most of his life. A different and exciting experience that you must not deceive yourself for!
2. Tivoli
Whether you visit Copenhagen in the summer or in the winter, Tivoli is an obvious place to stop by. For Christmas, Tivoli is incredibly beautiful and cozy, and you can enjoy a hot cup of cocoa and a nice walk around Tivoli, where you can view the many beautiful Christmas exhibitions. In summer, Tivoli is a land of wonders for those of you that love theme parks and adrenaline. The park is also the world's second oldest of its kind, so in fact there is also a bit of history in paying a visit to the amusement park. In Tivoli there are a wealth of different rides for both children and adults as well as for the brave and less brave. In fact, Tivoli is Europe's third most visited amusement park, surpassed only by Disneyland and Europa-Park, which says something about it being worth a visit! Tivoli is close to Central Station and Strøget and is thus super easy to get to.
3. Amalienborg
In Denmark, we have one of the world's oldest monarchies, and although many may not think about it in everyday life, it is actually something that many are proud of. Therefore, it is definitely worth taking a trip past Amalienborg, where the queen lives. At Amalienborg, you can experience the Royal Life Guard marching every day at 11:30 from the square outside Rosenborg Castle and to Amalienborg, where there will be a change of guard. It is a very special experience that you do not get any other places in the world. And while you are still at Amalienborg, you can, after the life guard shift changes, pass The Little Mermaid, which is only about 2 kilometers and a beautiful walk from there.
4. Nyhavn
Another place in Copenhagen that is without a doubt worth passing by is Nyhavn. Nyhavn is a harbor district known for its crooked, old houses in all sorts of beautiful colors. At Nyhavn you can get the perfect photo for your Instagram. The many beautiful houses, the cozy street and the water make the area the perfect place to visit if your Instagram needs to be updated. At the same time, you can enjoy a good meal and get something refreshing to drink at one of the many cafes or restaurants, which are located along the waterfront. If you are more inclined to settle down on the harbor edge with a cold beer in hand and in good company, that is also an opportunity. As you stroll back and forth on the harbor edge, you can keep in mind that H.C. Andersen has lived here and has actually written the fairy tales "The Princess on the Pea", "The Torch" and "Little Claus and Big Claus" from his hometown in Nyhavn. There is hardly a place with a more Danish cozy atmosphere than the one you can experience at Nyhavn!
5. Rosenborg Castle
Rosenborg Castle is a beautiful building with a lot of history, which today houses an inspiring and exciting cultural history museum. The castle, which is located in Kongens Have was built by King Christian IV in the 17th century and today Rosenborg Castle houses some of Denmark's largest cultural treasures. Rosenborg Castle has in its time been home to some of Denmark's colorful kings and queens, but is no longer. However, there are many other good reasons to make your way past the fascinating and beautiful castle. When you visit Rosenborg Castle, you can see the crown jewels and the old Danish crowns, which are well kept under the castle in the three treasuries. Also, the Knights' Hall with the coronation throne, which is guarded by three silver lions will be on view when you visit the castle. Without a doubt a royal experience that you must not chat yourself for!