News
Danes in disgrace: Sun lizards, ski bums and fat cat executives all flouting coronavirus regulations
---
This article is more than 2 years old.
The nation is hanging its head in shame today at the antics of the après-ski brigade and wealthy people using their financial clout to jump the vaccination queue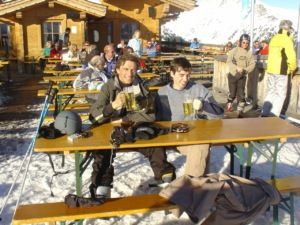 Denmark has been blighted by a plague of fat cats, sun lizards, ski bums and loony pyromaniacs this past week.
Saturday belonged to the firework fanatics when they and their hooligan chums sparked up an effigy of PM Mette Frederiksen in Frederiksberg (it would be almost poetic if it wasn't so puerile).
And now news is leaking through of other unruly elements in a society routinely lauded the world over for his Nobel Peace Prize-worthy qualities.
Fat cats jumping vaccination queue
It would appear that hospital executives are abusing their privilege to skip the vaccination queue, according to Søren Brostrøm, the head of the Sundhedsstyrelsen health authority. 
READ MORE: Age before duty: Danish vaccine strategy altered due to shortage of jabs
He has sent a very strongly-worded missive to the regions making it very clear that vaccinations should only be available to priority target groups, which in the healthcare sphere are the front-line workers. 
"I have a very hard time seeing why hospital executives should be included," he said. "When I hear some have been vaccinated in the early rollout, I think: 'It can't fit'."
At Odense University Hospital, three executives and a number of other employees skipped the queue, but they argued that they had "extra vaccines that had to be used no later than one hour after they had been pulled into the syringes".
Herlev & Gentofte Hospital and Nordsjællands Hospital cited similar situations!
Après-ski brigade living it up in Austria
Few will have forgotten how the first wave of the coronavirus late last February was most fuelled by skiers returning from resorts in Italy and most particularly Austria. 
Well, the après-ski loving brigade are at it again, but can we really blame them, as the conditions in the Austrian Alps are pretty much perfect this month, and Denmark is as flat as a pancake.
Well, yes we can. Travelling to Austria is illegal, but that hasn't stopped droves of Danes entering the country to enjoy is slopes. 
"Since Christmas, more and more young foreigners have flocked here – and among them are a number of Danes," confirmed Helmut Mall, the mayor of the Sankt Anton ski resort in Tyrol, to DR. 
"They say they are looking for seasonal work, and on social media there are even guidelines on how to circumvent our entry and residence ban."
Many young Danes, along with Swedes and Brits, are among those partying in the resorts, according to Austrian media. 
Tyrol is said to be a hotspot for several of the coronavirus variants rampaging through Europe.
Half a million to get jabbed in Dubai
Clearly the Dubai jetset knew something we didn't when they headed off to the UAE for some January sun.
Because while we were all laughing at their silly names, bad plastic surgery and ludicrous reasoning, we weren't seeing the bigger picture.
Dubai, you see, is where you travel to jump the vaccination queue.
British company Knightsbridge Circle has recently been subjected to criticism for arranging 500,000 kroner package tours to Dubai for wealthy holiday-makers to get the jabs whilst enjoying an all-expenses week in the sun.
And it would appear there is no such thing as bad publicity, as many Danes want to take advantage, Knightsbridge Circle has confirmed to TV2.
"We have had quite a few Danish inquiries, and we have already booked a Dane for Dubai next week," a spokesperson confirmed.
Nevertheless, Knightsbridge Circle does have standards, and it has confirmed that all its customers are over the age of 65, so Daddy's Girl and her crew will have to shop elsewhere.