News
You don't screw with the Sahara: how Denmark has been caught in the crossfire of a six-decade grudge
---
This article is more than 2 years old.
There's gold in them thar hills … and a fresh layer of radioactive dust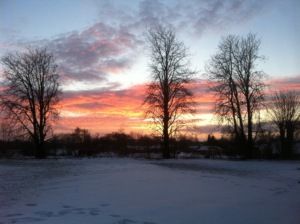 "The Sahara is a desert without compromise, the world in its extreme. There is no place as dry and hot and hostile," wrote author William Langewiesche, and perhaps France might have heeded his warning had he penned it earlier than 1997.
READ MORE: The Sahara woz 'ere! If the sunrise doesn't prove it red-ily, your windscreen will!
Because, irony of ironies, a cloud of Saharan radioactive dust has recently been leaving residue all over France – the same country that tested four nuclear bombs in the desert near the Algerian settlement of Reggan 61 years ago.
The cloud entered Danish airspace on February 22, turning Instagram into a feeding frenzy of tangerine sunsets and marmalade skies. 
It was proof that all that glistens is not gold but, in this case, an old … score. 
Not another Chernobyl though
Let's not get carried away.  The traces of the radioactive substance cesium-137 found on the mountain-slopes of France amounted to 0.08 becquerels (the SI unit of radioactivity) per square metre.
In comparison, the reading at the Saharan test-site in 1999 showed a radioactivity of up to 2 million b/sqm.
And the average readings in Denmark and Sweden in the 1980s shot up by 1,000 and 10,000 b/sqm respectively following the Chernobyl disaster in 1986. Even before that, Denmark had an average reading of 3,000 b/sqm thanks to fallout from the east. 
Still, six decades on, the hostile Sahara clearly never forgets.