News
Science Round-Up: Currently warm enough, unless you want your winters Canadian?
---
This article is more than 2 years old.
New study suggests North Atlantic Current is losing its thrust due to climate change – and that Denmark is in firing range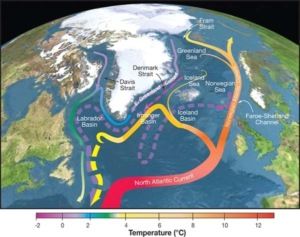 Ever been to the Faroes and wondered why they're not incredibly cold? The simple answer is that they're sitting in the path of the North Atlantic Current, the continuation of the Gulf Stream, which steadily brings warm water from the south.
Denmark and other parts of northern Europe are also beneficiaries. Without the current, they would be as cold as Canada!
Colder winters in store?
But now, according to research carried out by the Potsdam Institute for Climate Impact Research, the current has not been this weak for 1000 years.
Should it weaken further, it could cause colder winters, longer summer heatwaves and less precipitation.
The current works like a heat pump: it picks up hot water from the south and replaces it with cold water. The power of the current, therefore, plays an important role in the balance of the whole Gulf Stream.
Steadily in decline
The decline of the stream has been well documented since the 19th century.
However, while researchers know the current can naturally decline, and was one of the causes of the Little Ice Age, which reigned over Denmark from 1300 to 1850, they attribute the recent decline to human activities.
They estimate the current has lost 15 percent of its thrust, and that this could reach 45 percent as a result of climate change.
---
Risk of ADHD may be reduced by green environments
A new Danish study carried out by iPSYCH reveals that the risk of children developing ADHD may be reduced by growing up close to green spaces. The research looked at children aged 0-5 and how their surroundings affect their chances of developing ADHD. It is one of the most prevalent psychiatric diagnoses among children, but the exact causes are pretty much unknown.
Danish-Swedish partnership to solve energy challenges of the future
A large Danish-Swedish partnership aims to use renewable energy obtained from solar and wind sources to intelligently reduce CO2 emissions in Copenhagen. 'Innovation Hub for Intelligent and Flexible Energy Solutions in Greater Copenhagen' consists of 12 partners from both the public and private sectors.
Infections can be an early sign of dementia
A Danish study published in Nature Aging studied the connection between infections and dementia, concluding they can be signs of the early stages of the disease. They also found dementia increases the risk of serious infections that may result in hospitalisations. The study was greenlighted to determine the early signs of the disease and to protect those who are already diagnosed from further infections.
Huge congenital heart defect study reveals odds of being affected are 100/1
A study of baby hearts that involved 25,000 new-borns revealed that eight out of every thousand are born with congenital heart defects. In most cases, the heart valve linking the left ventricle and main artery consists of only two valve flaps, instead of the normal three. This can cause shortness of breath and chest pains in adulthood.
Aarhus University combining agriculture and energy
Using vertical photovoltaic systems, researchers from Aarhus University are working on a project to pull both energy and crops out of the same agricultural area. The plan is to produce energy while farmers work on the fields. Farmers want the technology so they can produce their own electricity.
New research: Your boss can boost your career
A study by Aarhus University has shown that bosses who give good assessments to their employees are better at motivating them and increasing productivity. The study claims its findings alleviate some of the uncertainty surrounding costly employee performance programs, and it concludes business should invest in them.