News
International Round-Up: More Swedes becoming Danish and vice versa in 2020
---
This article is more than 2 years old.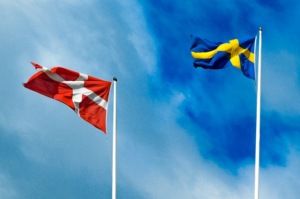 According to new figures, 2020 saw a spike in the number of Swedes applying to become Danish … and vice versa.
Some 211 Swedes applied for Danish citizenship last year – an increase of 66 percent compared to 2019.
Meanwhile, 222 Danes applied for Swedish citizenship last year – a jump of 55 percent compared to 2019.
And it seems the trend is set to continue, with both countries registering over 40 applications over the first two months of 2021.
READ ALSO: Øresund region a corona research hotspot
Travel restrictions and dual citizenship
One likely reason is the COVID-19-related restrictions that have limited travel between the two countries.
For instance, until recently it was not allowed for a Dane to enter Sweden even if the individual owned a summerhouse there.
Another reason could be Denmark only allowing dual citizenship since 2015. Swedes have had the option since 2001.
At the beginning of 2021, 19,858 people born in Denmark lived in Scania, while 39,000 lived in Sweden as a whole.
At the same time, 16,888 Swedish-born people lived in Denmark – 11,000 of whom reside in the capital region.
---
Denmark invited to Biden climate summit
PM Mette Frederiksen has been invited to take part in the Leaders Summit on Climate, which will be hosted by US President Joe Biden later this month. As the leader of a world leader in sustainable solutions, Frederiksen has been asked to convey Denmark's experiences in green energy. Since Biden was elected, the US has rejoined the Paris Agreement and the president is due to reveal new 2030 climate goals ahead of the summit, which takes place from April 22-23. Aside from 17 of the world's biggest CO3 emitters, Denmark and a few smaller countries will also participate. The summit will be held online due to the COVID-19 pandemic. 
Danish soldiers to be COVID-19 vaccinated
The Defence Ministry has revealed that 700 Danish soldiers will be vaccinated against COVID-19 before they are deployed on missions abroad. Vaccinations are increasingly a prerequisite to taking part in international military operations. It is estimated the spread of COVID-19 would significantly impact the completion of military missions. The soldiers will be vaccinated in the coming months in adherence with health authority guidelines.
Going Dutch again … five centuries later
In 1521, King Christian II invited 184 Dutch farmers to settle in Amager in a bid to gain better expertise relating to farming vegetables. Now, 500 years later, Denmark and the Netherlands have entered into a new co-operation agreement pertaining to climate-friendly agriculture. The Dutch and the Danes are both world leaders when it comes to sustainable solutions, and the partnership is expected to lead to an exchange of knowledge and expertise. More precisely, the co-operation will encompass deforestation, precision agriculture, animal welfare and the EU agenda. 
Calls for more ambitious EU energy sector
Ahead of EU negotiations this summer regarding energy, Denmark has called for member states to be ambitious when it comes discussing 2030 goals. The Danes have announced they will be working towards sustainable energy in the EU being increased by 32-45 percent by 2030. Additionally, the government will strive for an energy efficiency target of 32.5-40 percent by 2030. According to the climate minister, Dan Jørgensen, setting high goals is paramount to the EU reaching its goal of reducing greenhouse gas emissions by at least 55 percent by 2030.