News
Denmark inks massive electric train deal
---
This article is more than 2 years old.
Danish rails going green with French producer Alstom to deliver 100 new sets by 2030 in a deal worth 20 billion kroner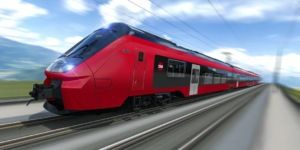 Denmark has long heralded transforming its railroad from polluting diesel locomotives to more sustainable options.
Today, those plans were laid bare as the government unveiled a 20 billion kroner deal with French firm Alstom. 
Alstom has initially been tasked with delivering 100 sets of electric trains to national rail operators DSB between 2024 and 2030.
The new electric trains will replace DSB's ageing fleet of IC3, IC4 and IR4 trains on Denmark's national and regional grid.
Aside from being greener, the electric trains will be quieter than DSB's current options, and faster.
They accelerate more rapidly than the IC3s and have a speed of up to 200 km/h – 20 km/h faster than the IC3s. Check out some images of the new trains below.
READ ALSO: DSB investing in new electric locomotives
No fears of new scandal
And the government does fear another scandal unfolding as was the case with the Italian-produced IC4 trains – particularly because the Alstom trains are not custom made.
"The train is already being used on various European grids, so we know that it's a train that works. So we won't see another IC4 scandal," Ole Birk Olesen, Liberal Alliance's spokesperson for transport issues, told TV2 News.
Part of the deal also includes Alstom handling maintenance of the trains, in case something goes wrong.
Aside from the government, Socialistisk Folkeparti, Radikale, Alternativet, Venstre, Konservative, Liberal Alliance and Dansk Folkeparti have approved the deal.