News
Bad week for PM: On the front pages and within her own party
---
This article is more than 2 years old.
Are the knives out for Mette Frederiksen after almost six years at the helm of Socialdemokratiet?
It's not been the best of weeks so far for PM Mette Frederiksen. 
A headline on the front page of a retail magazine (see below) produced for Salling Group, the owner of the likes of Netto and Fotex, has been widely condemned for misrepresenting how people feel about the PM – to the extent that many have said they will boycott the supermarkets.
It could be argued that the headline "Hele Danmarks Mette", which more or less translates as "Our Mette", reflects recent public mood, as a fair majority back the way the PM has dealt with the coronavirus. 
But even the Salling Group, which "100 percent outsources' production of the magazine to Lime, has described the headline as a "screw-up".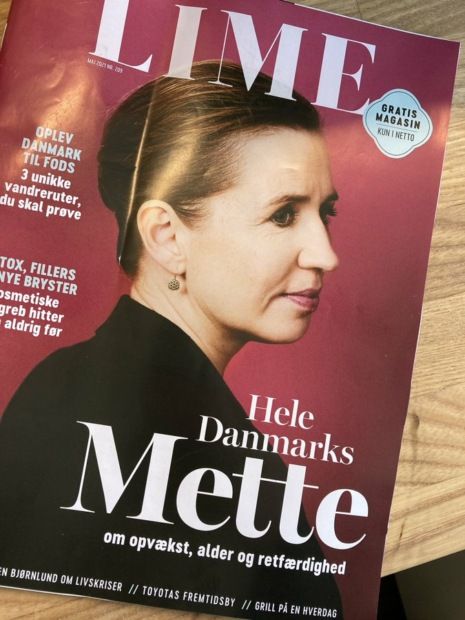 It's nauseating
Hans Kristian Skibby from Dansk Folkeparti, a party that an overwhelming majority of the country does not back, and former minister Søren Pind of Venstre, another party failing at the polls, have both made their feelings known via Twitter.
"It's unpalatable that Netto in its magazine Lime has portrayed the 'mother of the country' as a total clone of Queen Margrethe II," said Skiby.
"It's nauseating that an advertising agency will take money from Netto to produce such drivel without a discernible shred of journalism."
The MPS particularly object because Lime is produced by OTW, which is also responsible for producing the Socialdemokratiet members magazine. 
Both Salling Group chief executive Per Bank and his Netto counterpart Michael Løve distanced themselves from the headline, although the Salling Group denied any conflict of interest: "OTW produces a lot of different publications, so we must clearly assume they are able to separate the editorial from each other."
Foreign fighter kids and handshake issues
And the bad week did not end there; in fact, it is only just beginning.
In a TV2 political commentary piece today, it is suggested there is serious discord among the ranks of Socialdemokratiet for the first time since Frederiksen took over almost six years ago.
The party is increasingly divided over foreign policy. In contrast to its left-wing domestic stance, particularly in regards to welfare, it has become more and more right-wing.
The situation in Syria with the foreign fighter mothers and children has ruffled feathers – a TV2 survey of party members in March revealed that 40 percent vehemently opposed the government's actions.
While this month has seen a tightening-up of the 'Handshake Law' to ensure new citizens seal the deal with a senior municipal official, which many have branded as untimely political symbolism in these days of social distancing.