News
Denmark to soldier on in face of tragedy
---
This article is more than 2 years old.
A grateful Christian Eriksen is in stable condition and undergoing tests as his teammates try to find a way to continue playing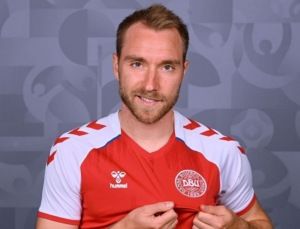 As images of players and fans across the world offering support for Christian Eriksen continue to flood in, the Danish national team has made a difficult decision.
They will remain in Euro 2020 and do their best to battle on.
During a press conference yesterday, the Danish football association's (DBU) head of football Peter Møller revealed that the players had voiced a desire to continue playing.
"We want to move on. We want to continue this tournament. We want to make the Danes proud and bring them together around this team," said Møller.
"We know that Christian is in good hands, so our job as DBU and leaders is to lift up the players to get the best out of them, get them back on track for Thursday's game against Belgium."
When football ceases to matter
Eriksen remains in city hospital Rigshospitalet for further tests, but DBU said he was in good spirits and had sent greetings to his teammates. 
Denmark's creative midfielder collapsed late in the first half against Finland in Parken Stadium on Saturday.
Fans in the stadium and watching on TV were left in shock as it quickly became clear that it was a life-threatening situation. 
Denmark captain Simon Kjær ran over to prevent Eriksen from swallowing his tongue before national team doctor Morten Boesen took over.
"He was gone and he received cardiac massage as his heart had stopped … we got him back with a single jolt [from a defibrillator]," said Boesen.
Heroes all around
As the medical staff worked on bringing Eriksen back from the abyss, the clearly distraught Danish players and staff formed a wall around their teammate as he fought for his life.
Finally they got him on a stretcher and wheeled him off to applause from fans – Danish and Finnish alike. 
Immediately, images of an awake Eriksen began filtering through, much to the relief of those watching. He was alive!
Should have been abandoned 
After almost two hours, the players emerged again and continued the game, which Finland ended up winning 0-1. 
The decision of UEFA to continue the game has attracted criticism and Denmark coach Kasper Hjulmand contended that the game should have been stopped.
"Looking back, I also think about what I could have done differently, because I honestly don't think we should have been on the pitch," said Hjulmand.
According to DBU, Denmark was given two options by UEFA: Either finish playing the game then and there, or continue the following day at noon.
He's a fighter
Eriksen himself has issued a response to the outpouring of support since Saturday. 
"Thank you, I won't give up. I feel better now – but I want to understand what's happened. I want to say thank you all for what you did for me". Eriksen was talking to his manager who reported Chris' words from hospital," according to Gazzetta dello Sport newspaper."
How quickly did something that seemed to be so important become irrelevant in a matter of seconds. 
That's something that will surely be on the minds of many when Denmark take on Belgium on Thursday.