News
More than 14 days of sunny weather ahead
---
This article is more than 2 years old.
Forecasters promise heatwave, 30 degrees and tropical nights over the coming week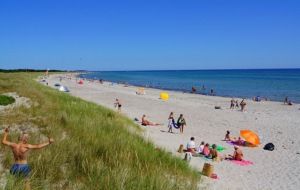 Good news for everyone who have decided to spend their summer vacation in Denmark. The next 14 days could consist almost entirely of sunny weather and high temperatures.
"It looks hot for the week. And Wednesday, Thursday and Friday look really hot with temperatures that can reach 30 degrees," said TV2's weather forecaster Peter Tanev.
At least 14 summer days
Every day of the week, temperatures are expected to reach 25 degrees – which is the minimum limit for the classification of a summer's day in Denmark. And the hot streak could very well continue.
"It is not unrealistic that we could have at least 14 continuous summer days ahead of us," said Tanev.
Tropical nights and warm bathing water
Nights are also expected to get noticeably hotter with local temperatures above 20 degrees – the meteorological definition of a tropical night in Denmark.
The hot nights will mostly be felt close to the sea, since the bathing water has reached unusually high temperatures in July.
Sunday had an average water temperature of 19.9 degrees and by the end of the week the water is predicted to reach 25 degrees locally.