Things to do
Performance Review: Happy ever after watching this stunning version of 'the Hamlet for actresses'
---
This article is more than 2 years old.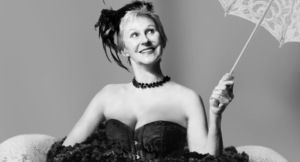 Funny, ruthless and philosophical, Samuel Beckett's 'Happy Days' has an incredibly simple premise: a woman, Winnie, is buried up to her waist in a mound of earth under the beating sun, where she remains trapped for the duration of the play. Occasionally she interacts with her out-of-sight companion, Willie – otherwise it's largely a monologue.
Director and set designer Peter Dupont Weiss and Why Not Theatre Company are the latest to produce an adaptation, and this version is currently showing at Teatret Ved Sorte Hest – one of Copenhagen's oldest, most intimate theatres – until September 25.
The play presents an intimidating dramatic challenge. Peggy Ashcroft, who played Winnie at the National Theatre in 1975, likened the role to "climbing Everest". In 2016 Dianne Wiest was reportedly "terrified" to take it on, dubbing it "the Hamlet for actresses".
In this case, Winnie is played by the indomitable Sue Hansen-Styles opposite Why Not stalwart Nathan Meister as Willie.
Dark, claustrophobic staging
Weiss has defied Beckett's direction of a "trompe-l'oeil backcloth to represent unbroken plain and sky receding to meet in far distance". Instead he gives us a stage markedly less cinematic: a dark, claustrophobic space – all foreground.
Where previous mounds have been textured, scrubby, or irregular, Weiss's terrain is ascetic: a featureless grey cone of earth that tapers upwards to cinch Winnie's waist viciously.
The comfortless vista of surrounding blackness taps the primal brain response in a way a trompe-l'oeil never can, conjuring conflicted feelings of barren isolation and asphyxiating confinement.
A stripped-back interpretation
These aesthetics are in line with the production's overall approach. While the natural sparsity of Beckett invites embellishment, Weiss has resisted.
Every detail has been stripped to a state of dramatic severity. The bell, for example – criticised in some previous productions for being too 'quaint' – is abrupt and piercing.
Likewise, in a rare moment of raising her voice, Winnie's two shrieks cut like a blade in the intimate performance space at Sorte Hest.
Stunning delivery
Against the arid scene, Hansen-Styles's delivery is stunning. She traverses Beckett's notoriously elliptical script with tones that sink and soar – oscillating from girlishly shrill to deep gravel-coarseness.
In a performance that is almost entirely static, Hansen-Styles' register and range constitute a physical, fluid presence.
A central challenge in performing 'Happy Days' is the micro-pacing between utterances. Halt for too long and momentum is lost, but halt too short and all suspense is lost.
It's a line that Hansen-Styles – who also works as a voiceover artist – toes perfectly. Her supple delivery is pregnant with a carefully calculated tension that never breaks, steering us to pity and admire Winnie in measures that allow Beckett's mordant humour to shine.
Perfect interplay
Contrast that with the laconic Willie, played by Nathan Meister. For most of the play he exists as a straw-hatted back-of-the-head peeking over the earth, beneath a dim orange spotlight. Occasionally, he unfolds a newspaper to bleat the headlines.
Under these spartan acting conditions, Meister's guttural moans and few, precisely choreographed moves provide the perfect companion to Winnie's absurdly blithe ramblings.
In the second half, Winnie is buried up to her neck, unable to reach her bag or – more forebodingly – her gun. Here, Hansen-Styles's performance is only minimally altered, yet a heavy sense of suppressed desperation pervades.
There's a little less levity in the voice, the optimism is a little more forced, the veneer of buoyancy falters a little more sharply. Sometimes it's braver to do less. Weiss's production hits the mark perfectly.
Timelessly rousing
'Happy Days' is 60 this year. It was written at the height of the Cold War, during the Suez Crisis, Korean War and Hungarian Revolution. Its Broadway debut was barely a month after construction began on the Berlin Wall, while its London premiere came just days after the Cuban Missile Crisis.
The backdrop of global turmoil against which 'Happy Days' was written may be lost in the passage of time, but its timeless post-apocalypticism has never faded.
A 1960s audience would have been disturbed by its commentary on a nascent Cold War, while today the play speaks to contemporary fears about climate change and the isolation we all experienced during the COVID-19 pandemic.
Beside global devastation, a modern audience will find themselves reflecting on a sweeping list of unsettling worries: the power of big tech, declining health, the point of art.
In the final moments Willie drags himself into full view and reaches agonisingly for Winnie's disembodied head … or is he reaching for the gun? Either way, it's castrated by a dot-dot-dot ending that elicits a complex flood of emotion ranging from fear to relief.
Technically faultless, compellingly emotional
But searching for resolution in Beckett is fruitless. He once cryptically referred to 'Happy Days' as "no more than another dramatic object". If that's so, then Why Not Theatre has produced an astonishingly accomplished "dramatic object". In technical terms, it's faultless.
Yet for a performance so strikingly technical, it's also incredibly emotional. Moments of softness or nostalgia are drip fed – never over-sugared. Every dramatic feature is crafted with an attention to and understanding of the human condition. In Sorte Hest's intimate space, the whole experience has the quality of a reverie.
Weiss' 'Happy Days' is masterful: a stark and intelligent interpretation that will leave aftershocks in its audience. Go and see this play.