News
Danish government outlines 15 initiatives to battle escalating Anti-Semitism
---
This article is more than 1 year old.
Among the measures, the Holocaust will be compulsory learning for children and counter-measures will be stepped up in environments where the hatred is particularly prevalent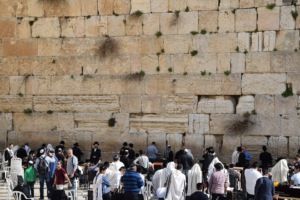 On 14 November 2019, dozens of Anti-Semitic acts were conducted all over Denmark – including the desecration of over 80 Jewish headstones in Randers – to mark the 81st anniversary of Kristallnacht (Night of Broken Glass), a pogrom against Jews living in Germany carried out by the Nazis. It wasn't even a round number anniversary. 
READ MORE: Anti-Semites leave ugly stain on country
In the November 2021 local elections, David Zepernick, a councillor seeking re-election in Frederiksberg, woke up one morning to find one of his posters daubed in swastikas, the symbol of the Nazis. The suggestion was that Zepernick is Jewish, but he isn't.  
READ MORE: Swastikas flying both ways: election poster vandals using them to target both left and right-wing candidates
All of this is happening in a country that famously rallied together to save its Jews from extermination in the Nazi death camps in the autumn of 1943 – the same nation served a stark reminder of the evils of Anti-Semitism when Jewish security guard Dan Uzan was murdered whilst guarding the city's main synagogue in February 2015. 
READ MORE: Marking the 75th anniversary of the rescue of the Danish Jews
So maybe it's no surprise that the government is tackling the problem of escalating anti-Semitism in Denmark seriously.
Today it has presented 15 initiatives (see below) in a bid to turn the tide. The primary focus is education.
Danish government: anti-Semitism is unacceptable
The teaching of the Holocaust in schools, as well as Danish-Jewish cultural history, will be compulsory learning for children.
The efforts will be funded, which is good news for cultural centres like the Danish Jewish Museum, which will be encouraged to hold more exhibitions and debates.
Additionally, preventative measures will be stepped up in environments where anti-Semitism is particularly prevalent, more targeted research will be carried out, and "the maintenance of the necessary security efforts to protect Jews and Jewish institutions" will continue.
"We know from European studies that some Danish Jews avoid carrying objects that can identify them as Jews, and that some experience being harassed at school and at work, simply because they are Jews," explained the justice minister, Nick Hækkerup. 
"We cannot and will not accept that."
READ MORE: Denmark refuses to ban the ritual circumcision of boys