News
Danish aquarium exhibits dead porpoise
---
This article is more than 1 year old.
Fjord&Bælt contends its new concept will show visitors that death is the prerequisite for life beneath the surface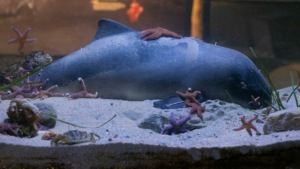 Fjord&Bælt aquarium in Kerteminde, Funen has turned quite a few heads with its latest exhibition. 
The 'Life in Death' exhibition, which opened on February 10, involves a dead porpoise slowly being devoured by sea scavengers to illustrate what happens when a marine mammal dies.
Fjord&Bælt had a similar exhibition involving a dead seal back in 2019, so this effort is a 2.0 rendition.  
"It's difficult for us humans to experience life under the surface. So we've revived the idea of showing the entire process in an aquarium in the exhibition," explained Jeppe Kaczmarek, Fjord&Bælt's exhibit manager.
"Our guests see how the porpoise decomposes and becomes a food source for a lot of other animals. This way, we demonstrate how death is a prerequisite for life on earth."
READ ALSO: Large invasive, potentially hazardous fish seen on Danish shores
It's fin-tastic! 
The dead porpoise was acquired from a fisherman who found the small dolphin-looking marine mammal in his fishing net. 
The exhibit also gives children the opportunity to dissect fish and touch live crabs, starfish and flatfish.
Guest are also able to take in Fjord&Bælt's daily training sessions for its porpoises and seals.