Things to do
CPH STAGE 2022: Up close and personal with the ringmaster who helps Rocky keep his 'bierings'
---
This article is more than 1 year old.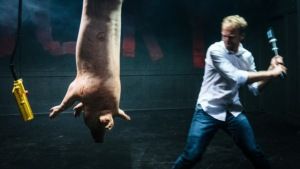 Tue Biering is one of Denmark's leading stage directors.
CPH POST recently caught up with him ahead of CPH STAGE, where his play 'ROCKY!' will once again be one of the biggest draws.
Danish modern classic translated into English
Like in 2019, it is being performed in English: a great chance for internationals to enjoy a play that is enduring to become one of the most popular Danish works of recent times.
Biering reflects on the success of the play and how it has tapped into searching questions in the hearts of Danes and people all over the world.
English performance on June 9
'ROCKY!' will be performed in English on June 9, and then in Danish on June 10 and 11, on the Edison stage at the Betty Nansen Teatret.
Read more about the play here (in English) and book your tickets here.
---
Can you clarify what input you've had regarding this production, which was first performed in 2017. As well as director, are you also a co-writer?
In 2015, Dansk Folkeparti had a stellar election, becoming the second biggest party in the country, while Pernille Vermund founded a new party, Nye Borgerlige, whose main talking point was strict immigration policies mostly against people from third world countries. Meanwhile, the migration crisis was washing all over Europe – the image of a Danish citizen spitting on refugees, as they made their way through the country bound for Sweden, flooded the media and sent shockwaves through the population. In 2016, Donald Trump won the presidency in the US. In 2017, right-wing extremist Rasmus Paludan founded his own political party, Stram Kurs, and he was all over the media burning the Quran and protesting against immigration under police protection. The political debate in Denmark and across the globe seemed to become more and more hostile and polarised, and a tendency to only debate with those who already agree with you and to block those in opposition seemed to be prevailing. 'ROCKY!' is born out of all the questions that these developments raised within the so-called 'creative class' who are mostly left-wing here in Denmark: How did this happen? Should we have seen this coming? Are we arrogant for thinking that we are standing up for 'the little guy' and does he even want us standing up for him? We in the arts industries love to tell the story of the underdog rising against all odds to seize the day, but this supposed underdog didn't seem to agree with our political standpoint at all.
It's a monologue, but contains some powerful imagery. Can you give me an example of something without giving the plot away?
Even though it's a monologue with a lot of text, it's also a very physical performance, and actor Morten Burian is really put to the test. It's difficult to give examples, not because it would give away the plot, but these images are for the most part very abstract and trying to describe them makes it sound a little tame, but experiencing them live and in the flow of the performance is extremely unsettling.
Would you recommend it to a fan of the original Rocky films?
I'd recommend it to everyone who wants to experience an intense and XX theatre performance, including fans of the 'Rocky' series, just as long as they're not expecting an adaptation of the original classic, because we take the story in a very different direction.
It touches on political elements in Denmark: how the far left are becoming as big a menace as the far right. Can you elaborate?
'ROCKY!' is not about pointing the finger at any one political persuasion or party. It's not about assigning blame to anyone or announcing someone to be the bigger menace. That's very important to emphasise. It examines the relationship between the left and right – or lack thereof from a left-wing perspective because the artistic team that made the performance are all on the political left. And it asks some tough questions of the mostly left-wing audience that usually fills the theatres. But you could just as well ask these questions of the political right, because in the end it's all about political prejudice and the fear of 'the other side' and what they might do to 'ruin the world' we know and love. It's an attempt to jumpstart the political debate, which seems to have come to some kind of standstill or weird trench war, where no-one is really willing to risk anything by opening up to an actual conversation with the other party.
So will the June 9 performance be the first English language performance? Have you experienced any difficulties with translating the script? Does it lose any of its nuances? And how comfortable is the actor in the English version; he's still a Dane, right?
We had an English performance at CPH STAGE in 2019. Our dramaturg translated the script because she was already a translator as well and knew all the subtleties of the performance beforehand and what was important to preserve. But actually it's very translatable, because the theme is so relatable to most western nations. I can't speak for Morten or how comfortable he feels playing in English, but he's a very talented actor and, while performing in a second language is of course a challenge, he really rose to the occasion, so the performance doesn't lose any of its edge by being performed in English. Of course it's been an ambition for several years for FIX&FOXY to become an international company with a Copenhagen base, and 'ROCKY!' has been a part of our working towards becoming that company.
Many of our readers might associate Denmark with being an underdog, but know less about what it takes to be an underdog in Danish society. Can you explain how modern Denmark trampled on the underdog?
I'm not sure that modern day Denmark has trampled on any underdogs, and if some people feel they see themselves in the character Rocky, I'm not sure they feel like underdogs at all. It's not the intention with 'ROCKY!' to point to any real figures in society. It's all about perception. It's about a character that often crops up in left-wing art: 'the loser', the ones we dismiss before they ever get a foot in the door. We love it when they rise above their station in fiction. But not so much in real life, because sometimes they don't agree with us. We talk so much of representation within the arts, and rightfully so, but when it comes to political representation, we're much less willing to let voices who speak against us into the arena.
What insights of Denmark will non-Danish audience members gain from seeing Rocky?
I think most people, Danish or otherwise, will relate to the themes and questions touched upon in 'ROCKY!'. Political polarisation and extremism or radicalisation is a widespread phenomenon. It's not a specific Danish performance.
You're one of your country's leading stage directors. What do you think Danish audiences want to see on the stage?
I don't know. I know what I like to show on stage. And I know what I personally like to see on stage: I like theatre that engages the audience. That addresses the times we live in. At FIX & FOXY we often invite people on stage who are rarely represented in theatres. Because we can actually make a difference when we interact with the ones we have strong opinions about, but we hardly ever meet.
You won the Reumert for best director in 2018: this country's top award for theatre direction. It must have made you feel very proud, but do you have wider ambitions, beyond Danish shores?
FIX&FOXY has wanted to go abroad for a long time, and we already have several international projects. Just this month we've entered into a partnership with Danish Bikubenfonden to turn FIX&FOXY into an international theatre company based in Copenhagen, so we absolutely have big ambitions. We hope to take Danish theatre abroad, but also very much to bring international theatre to Denmark for mutual inspiration.