News
SAS files for bankruptcy protection in US
---
This article is more than 1 year old.
This comes as around 1,000 SAS pilots continue to strike.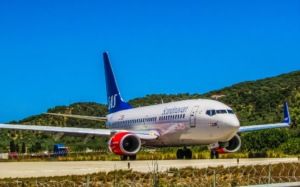 As internal turmoil rages on at SAS, the airline announced today that it has filed for bankruptcy protection in the United States.
Certain SAS subsidiaries have done the same. Higher-ups at the company hope the measure will afford them time to undertake necessary restructuring.
"SAS does not make money at the moment, and at some point, companies that do not make money go bankrupt," explained Sydbank share analysis manager Jacob Pedersen to TV 2. "But you are now protecting yourself against that. This process means that the lenders cannot knock on the door and say 'we must have our money, otherwise we declare you bankrupt.'"
Expect disruptions
Despite the ongoing bankruptcy protection case, which SAS expects to last nine to 12 months, the airline will aim to serve its customers as usual. However, a strike of approximately 1,000 pilots is ongoing, motivated by poor working conditions, inadequate pay, and unfair hiring practices.
"We are making progress, but there is still a lot of work ahead of us, and the ongoing strike has made an already challenging situation even tougher," said SAS CEO Anko van der Werff.
SAS has encouraged pilots to put an end to the strike so as to aid in the company's recovery. The airline is in the process of implementing its rescue plan SAS Forward, designed to help SAS cut costs and bounce back from debt incurred during the COVID-19 pandemic.
Similar problems were faced by Norwegian Air at the end of 2020, but filing for bankruptcy ultimately brought the company back from the brink of closure.