News
CPH Airport closing in on a profit this summer
---
This article is more than 1 year old.
Passenger numbers have risen from 821,000 in January to almost 2.3 million in June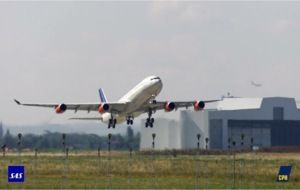 After two years of being ravaged by the COVID-19 pandemic, Copenhagen Airport finally came close to profitability in the second quarter of the year.
The second quarter ended with a profit before tax of 159 million kroner. Excluding the pre-tax loss of 171 million in the first quarter, the half-year ended with a small pre-tax loss of 12 million.
"In the early summer, this airport is about to gradually return to normal," said Thomas Woldbye, the CEO of Copenhagen Airport.
In the first half of the year, monthly passenger numbers tripled from 821,000 in January to almost 2.3 million in June. A total of 9.4 million passengers travelled through the terminal in the first six months of the year.
Restoration of employees
The recovery of the airport is also reflected in the rebound in staff numbers. During the pandemic, the airport laid off 800 jobs in 2020. In the first half of the year, its owner Copenhagen Airports employed a total of 507 people.
"It took time to complete the training of so many staff, but we met our target and are ready for a busy summer," explained Woldbye.
Still challenging future
"While traffic in Europe is getting back to normal, the long intercontinental routes are slowing down – especially to China and the rest of Asia," continued Woldbye.
In addition to this, the operational crisis faced by SAS has had a significant impact on CPH Airport. As a long-standing business partner, it accounts for close to a third of the airport's traffic. It is therefore still not possible to make a reasonable and comprehensive assessment of the financial prospects for the airport in 2022.