News
2022 General Election: Key figures from a historic night
---
This article is more than 1 year old.
Last night turned out well for Mette Frederiksen in the end, but now she faces the daunting task of forging a new government across the middle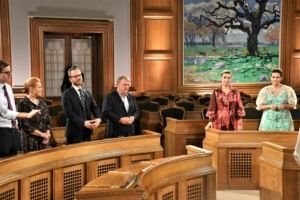 Last night, Denmark arguably enjoyed its most dramatic election this century.
With over 99 percent of votes counted, no-one knew which side of the aisle would win. Not the public, not the politicians and not even the media.
With 99.7 percent of votes accounted for, TV2 had the Red Bloc getting 87 mandates, while DR Nyheder had them at 86.
It wasn't until the count reached 100 percent that DR's mandate count ticked up to 87 and gave the Red Bloc a stunning comeback victory – three mandates from Greenland and the Faroe Islands put them over the top for 90.
Just a couple of hours earlier, Moderaterne boss Lars Løkke Rasmussen had made a triumphant speech suggesting that Denmark would get a new government with himself as kingmaker.
Well he was right about the first bit. Denmark will get a new government.
READ ALSO: 2022 Election: Radikale emerging as kingmaker as Blue Bloc parties put pressure on leader Sofie Carsten Nielsen to join them
Gov across the middle
Despite losing ground in the exit poll compared to the last election in 2019, Socialdemokratiet actually ended up enjoying its best result in two decades.
PM Mette Frederiksen stated that she wants a government across the middle, so the door is open for Rasmussen to play an important role.
What role that might be has yet to be ascertained, but negotiations will shortly commence across parties and blocs – the first test of how functional a prospective government across the middle might be.
Historically, though, it hasn't worked well.
THE WINNERS
Aside from Frederiksen and Socialdemokratiet, the big winners last night were:
Liberal Alliance: What a turn around for a party that was struggling to survive after the election in 2019. Jumping from 4 to 14 mandates spells a massive success for Alex Vanopslagh's party.
Moderaterne: Yes, Rasmussen didn't end up being kingmaker. But hello! Welcome back! After founding Moderaterne just months ago, Rasmussen must be over the moon that his party stormed into Parliament with 16 mandates.
Danmarksdemokraterne: Inger Støjberg and Danmarksdemokraterne (DD) also made a dream election debut, sweeping into Parliament with an impressive 14 mandates. Denmark's former iron lady of immigration is out of prison and back in the limelight of Danish politics.
THE LOSERS
Where there's winners, there are always losers. And last night the biggest were:
Venstre: With new parties M and DD gobbling up voters last night, something had to give. And it was Venstre that bore the brunt, dropping 13.3 percentage points compared to 2019, losing a massive 20 mandates to end up on 23 – the party's worst election in 34 years. Party boss Jakob Ellemann-Jensen went from PM candidate to wondering what went wrong.
Radikale: Radikale and Sofie Carsten Nielsen were behind the dismantling of a government that guided Denmark safely through the pandemic and the energy crisis. They paid a heavy price, dropping from 16 to just 7 mandates.
Dansk Folkeparti: DF continues to pay for its huge miscalculation in 2015, when it failed to seize power despite a smashing election. This time, the party ended up with just 2.7 percent of votes, its worst performance in history.
OTHER KEY FIGURES:
Here are some other key figures from the election last night:
– The voting percent ended up at 84.1 percent, which is lower than the 2019 election (84.6) and the lowest since 82.8 percent voted in 1990.
– Around 55,000 votes were 'lost' yesterday through votes cast for Frie Grønne, Kristendemokraterne or an independent, or because the ballot was blank or spoiled. Neither party managed to reach the 2 percent limit required to enter Parliament.
– The highest voter turnout was in the Rudersdal voting district, north of Copenhagen, with 90.39 percent, followed by Gentofte (89.57) and Falkoner (89.48)
– The lowest voter turnout was in Brøndby at 76.78 percent, preceded by Lolland (77.64) and Bispebjerg (78.62).
– In Copenhagen, Socialdemokratiet took most votes at 19.1 percent, followed by Enhedslisten (13.8), SF (11.4), Moderaterne (9.5) and Alternativet (9.4).
– Ballerup had the highest share of invalid votes at 0.54 percent, while Valby had the highest number of blank votes (1.7 percent).