News
2022 World Cup: Big screens and best bars
---
This article is more than 1 year old.
Wherever you watch the World Cup, it will be fun, but choosing a good venue can take you to the next level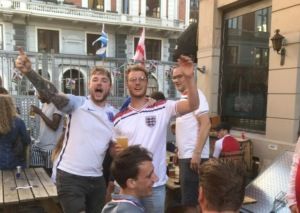 To be fair, this article is just as much for voyeurs as it is die-hards who want to know the best venues to watch 2022 World Cup games this November and December.
Of course, I'm not suggesting half our readership is perched at a rear window watching Ironside/Perry Mason (yeah, the same actor killing them before he helped catch/put them away) trying to get away with murder.
Be a part of history
But as the recent death of the British Queen showed us, more and more people want to be "a part of history" – and if that includes watching jubilant French and crestfallen Argentinians (like I witnessed at Absalon's Church on Sønder Boulevard in 2018), then why not?
Head to a venue where you know the watching fans will be as passionate as those in the stadiums – it's got to be better than watching at home, right? Unless, of course, you live with Grace Kelly.
Bella no, later maybe
Or, simply seek out one of the big screens showing the games. For Euro 2020, this honour befell Ofelia Plads, but this time around, Bella Arena is the place to be. 
As is often the case, tickets sold out very quickly for all the games, but that needn't be the end of your interest, as tickets tend to materialise pretty quickly if certain teams get knocked out and you search hard enough. Ask among friends, check online forums etc.
Lots to choose from
But there are a host of other venues with big indoor screens in Copenhagen, including the aforementioned Folkehuset Absalon and also Hafnia Hallen, Hooked in Carlsberg Byen, Hotel Maritime and Forum.
You never know: you might end up at a screen where you get both a good atmosphere and cultural insights. So voyeurs and people who love it, together as one – like the plot of Blue Velvet, in fact.
---
Ebullient for England
Storm Inn, Stormgade 20, Cph V; @stormgade20
Storm Inn landlord Adam Tobin's beer pipes are so clean, they can play 'God save the King', but winning the 2022 World Cup would be another story: anyone for 'Land of Hope and Glory'?
It's been a long time since people have been tipping the Three Lions to win the World Cup – but after losing in the final of Euro 2020 and the semi-finals in Russia, they're serious title contenders.
It has to be said that the atmosphere when they knocked Denmark out of the Euros was sensational.
Rival fans spent three hours chanting in the Storm Inn carpark until they were hoarse, while Adam kept on filling their pints from an improvised pump.
With its cask ale selections, and tasty hot pies, the Storm Inn is one of the only genuine English boozers in Copenhagen, so where better to sing a few verses of 'Football's Coming Home' and 'Vindaloo'.
"England will win this tournament" promises Adam the landlord. "Or not. Either way, we're drinking!"
---
Dedicated to Denmark
Kennedy's Irish Bar, Gammel Kongevej 23, Cph V
Ireland won't be featuring at the World Cup this time around, and neither are Northern Ireland.
So in the absence of the Green Army, the nation's most quintessentially Irish pub is throwing its good vibes behind Denmark.
Entering Kennedy's on Gammel Kongevej, just a stone's throw from the famous City Lakes, is like returning to the 'Old Country'.
Its charming rustic interior has several inviting corners to snuggle up in, and besides showing football on multiple screens, it's well known for its regular jam sessions, monthly pub quizzes and basement pool area.
"We've got to be backing Denmark, haven't we," enthuses Tony Kennedy, the co-owner of the bar, who presumably won a toss of the coin when he and partner Tim Tynan named the joint 20 odd years ago.
"After all, half of our customers are Danes: and we've got to keep our locals happy!" 
---
Cafe Canadians call home
Cafe Svejk, Smallegade 31, Frederiksberg; @cafesvejk
"I fucking hate football," confides Cafe Svejk manager Paul McNamara, which is in keeping with a bar that normally backs the Czech Republic.
But in the absence of Patrik Schick and Tomáš Souček this year, Paul has run his finger down the alphabet and found the next available 'C': Canada!
Figuring the Copenhagen Canucks need somewhere they can call home, Paul has Canadian milk at the ready, with a Halifax, Novo Scotia-born member of staff at hand to serve it.
For the duration of the side's adventure in the tournament – so probably nine days then – Paul will not be washing his Canadian national football shirt, which had to be shipped in and wasn't cheap!
There's more to Svejk than the bar. Step outside you'll not only find plenty of places to sit in the December sun, but the charming side-street Andebakkesti where Frederiksberg Have awaits you at the end.
Before that, make sure you drop in at Bon Bon Is, the capital's number one ice cream shop. The Italian influence on their ever evolving line-up … well, it's like Carlo Ancelotti at Real Madrid all over again. 
---
Never write off Netherlands
The Globe, Nørregade 43-45, Cph K
The Globe has been known to serve up Dutch delicacies such as bitterballen along with matchday deals on Grolsch.
Welly for Wales
Charlie's Scott, Skindergade 43, Cph K
Charlie, yes, he's a real bloke, is known to be friendly to the Welsh contingent on the rare occasion they qualify for major tournaments: three out of the last four thanks to Gareth Bale and Co. Weird fact: Wales have a 100 percent record at making it out of the group at three tournaments, Scotland have a 0 percent record at eleven.
Pour la France!
L'Education Nationale, Larsbjørnsstræde 12, Cph K
This laid-back Parisian café in the Pisserenden district is a bit pokey, but it's where you want to be if Les Bleus make the final again, which they are developing into an annoying habit of late. The cafe unfurls the tricoleur and swaps Bourgogne for Kronenbourg when the football's on, and don't turn down an opportunity to try their food.
Pepe talking Portugal
Falang Asiateria, (formerly Det Gule Hus), Istedgade 48, Cph V
The Portuguese diaspora have been congregating at Istedgade 48 to watch national games for decades. At one point, this place was called Restaurant Skank.
Go Germany!
Berlin Bar, Gammelkongevej 147, Frederiksberg
With 140 bottled German beers and 13 on tap, the owners are passionate in equal measures about their German football and beer.
Aussie, Aussie, Aussie!
Southern Cross, Løngangstræde 37, Cph K
For decades, this pub has been faithfully serving Aussies in Denmark, along with hundreds of other internationals. A proper locals' locale for watching Anglo teams.