News
#MeToo case shakes the trade union movement: Risgaard a "lame duck" ahead of Labour Day
---
ANALYSIS: A highly unusual and extremely critical case has hit the Danish unions shortly ahead of their biggest day of the year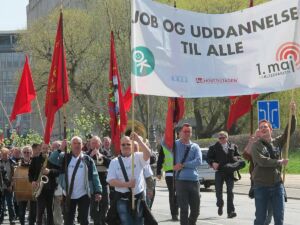 Head of FH, Lizette Risgaard, is accused of having offended a number of young men. She admits that her behavior has been "inappropriate" and "unprofessional".
The crisis has hit the largest national trade union confederation in Denmark hard.
A powerful top figure and the first female leader of FH, the 62-year-old is the first woman publically embroiled in a big #MeToo case in recent years.
The case arose when Berlingske and Ekstra Bladet shed light on the story after speaking to the men in question, as well as witnesses to a series of episodes.
The common demoninator is that Risgaard touched the men unwantedly and that they felt discomfort due to the inappropriate behavior.
READ ALSO: Union boss accused of inappropriate behaviour
External legal investigation
Early Friday, FH's executive committee held an emergency meeting, where it was partly requested that Risgaard continue on as chairman. But also that an external legal investigation would be initiated.
That buys Risgaard some time.
But it is difficult to see a credible way going forward – regardless of the fact that she has regretted her behavior and openly apologised without hesitation.
May 1 is International Labour Day, a key day for the union movement in Denmark.
However, instead of raging at the government over the historic scrapping of Great Prayer Day as a national holiday or the curtailing of senior pensions, all focus will now be on Risgaard's #MeToo scandal.
Best case scenario is that the legal investigation does not find grounds for the crushing criticism of Risgaard and a public apology might be enough.
Still, the case will haunt the chairman, who will be stripped of authority in future #MeToo cases. Contrary to what the trade union movement, on behalf of its members, has fought for.
READ ALSO: Responses to Denmark's latest big #MeToo scandal range from disbelief to anger
Loss of credibility
Danes may well forgive her, as they have their past leaders.
Take, for example, the foreign minister Lars Løkke Rasmussen, who has survived turmoil a number of times. He is now back as one of Denmark's most powerful men.
The problem for Risgaard and the trade union movement, however, is the loss of credibility.
Before you exercise your right to criticise others for harassment and discrimination – take a peak in your own backyard!
Major unions are forced to choose between asking Risgaard to step down – even if many do not think the case is serious enough for that outcome – or support a compromised chairman and thus become the object of criticism due to nepotism.
It's the devil's dilemma, because any future phrases associated with union #MeToo campaigns will surely ring hollow to the public.