Things to do
Voilà: Voltaire and venner are velkom! French-language theatre play to make debut this weekend
---
Founded two years ago, 'Un petit jeu sans conséquence' is Copen'Acte Theatre's second production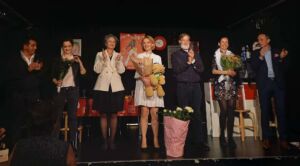 Given that the Copenhagen Post is an English-language newspaper, it's natural that it tries to cover as much Anglophone theatre as possible.
But many of our readers are not Americans, Brits or Australians etc. They come from countries like Italy, Romania, Lithuania, Germany, Poland and Portugal.
And some of those countries no doubt have citizens based in this country who occasionally dabble in theatre using their own language.
Opens on Friday
French company Copen'Acte Theatre is one such outfit and this weekend they will be performing a play at Kulturhuset Indre By, a culture house near the Lakes at Charlotte Ammundsens Plads.
From Friday, the French play 'Un petit jeu sans conséquence' will be performed on three consecutive nights: April 28 and 29 at 20:00 and April 30 at 18:00.
Suitably dark material
Co-written by Gérald Sibleyras and Jean Dell and staged by Marie-Astrid Mugnier-Pollet, the contemporary comedy-drama will feature five Francophone actors.
The synopsis of the play reads: "Claire and François have been a model couple for 20 years. During a family party, out of provocation, they spread the word they are separating. Tongues are loosened, masks fall off and personalities are revealed. Will this little game have no consequences?"
Founded recently
Copen'Acte Theatre was founded almost two years ago by Marie-Astrid Mugnier-Pollet, a teacher at the Prins Henriks Skole with a passion for theatre and singing, who has been living in Copenhagen since 2019.
Its first production, 'Un air de famille', was well received and many of the same actors are returning for the 'Un petit jeu sans conséquence'.
Watching the play and getting involved
Book your tickets via the following link. In the meantime, register for the theatre group via Copenhagen Accueil, an organisation that offers multiple Francophone activities, helping French expats with their integration in Denmark.
Copen'Acte Theatre warns that a lot of hard work goes into the productions, so expect hefty rehearsal commitments, but prides itself on giving everyone a fair crack. There is no audition! People are selected from the waiting list in order of registration.