We Make Denmark Work
Worked for Carlsberg and Novo Nordisk: Now Phaedria is a female angel investor
---
Dominican Phaedria Marie St. Hilaire is an outsourcing consultent, executive coach and angel investor.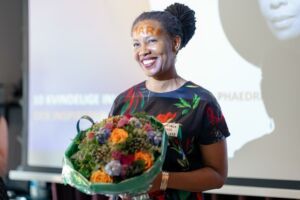 In our regular series We Make Denmark Work, meet the internationals making an impact on Danish business.
In June, Phaedria Marie St. Hilaire was recognised as one of the 10 most inspiring female angel investors in Denmark by Angella Invest. Originally from the Caribbean island of Dominica, Marie St. Hilaire moved to Denmark after studying Chemistry in the US.
Could you briefly describe your work history?
"I worked at Carlsberg Research Center as a researcher and, later, as a group leader. Carlsberg at that time wanted to capitalize on biotech spin-out. So there was this incentive to create these small startups, and I took the lead in one of those.
Three years later, I had moved into a new position as Director of Research and Development at another Carlsberg startup, which was bought by Novo Nordisk, and that's how I ended up there.
For the first three years at Novo, I was a Principal Scientist for about 3 years. But I wanted to go into leadership in the commercial side of science, and be in a position to make the decisions. So I did an Associate's degree in Business Administration at went to Copenhagen Business School, which allowed me to work with outsourcing.
I built the outsourcing organization in the development part of Novo Nordisk and my team made significant contributions to Rybelsus and Ozempic. I worked there for some eight years.
In March 2021, I left. In October, I started my own consultancy."
What is your current role and what does it entail?
"I work for myself, and that means that I work with pharmaceutical companies or smaller companies on outsourcing, because that's where my training and competences lie.
I do executive coaching to help professionals to develop themselves. My focus is on career transitions. I do volunteer work for ProWoC (Professional Women of Colour Network). And I've recently become a business angel investor."
Is this the career you envisaged when you graduated?
"Not at all. When first chose chemistry, I thought I would go into medicine because in the Caribbean there are only three acceptable careers: doctor, lawyer or engineer. That's all you can do. So, I felt a lot of pressure to be a medical doctor.
But when I went to university, I did undergraduate research and found it fascinating. That was the reason I chose to go into science in the first place: my deep curiosity about how human beings work. I got caught up in it and chose the research path. Then I went into pharmacology and worked in the industry for several years. I never thought that I would be an angel investor."
Has your international background given you an advantage over your Danish colleagues?
"I think anybody who's travelled or lived outside in a country that is not their own gains broader perspectives. I have met many native Danes who have travelled, who have lived abroad, who have a very broad perspective similar to mine."
Have you worked in countries other than Denmark?
"I worked in my home country Dominica and I worked in the US."

How international is the culture of the company you work in?
"At ProWoC , I would say it's 85 to 90 percent internationals. At Carlsberg and Novo Nordisk, which are two global companies, I would say that compared to your average Danish organization, there is a higher percentage of internationals. The culture, though, is still very Danish."
What three things have surprised you most about your working life in Denmark?
"Keep in mind I came 27 years ago, so I was surprised how little people socialise at work. I feel you don't really socialise with the people you work with. I was surprised at how many people spoke English well. I didn't speak any Danish when I came here. I was surprised at how expensive everything is."
What do you miss about working in your home country?
"The social aspect in many of the workplaces in Dominica and the US. You can have friendships at work which I feel is not the case in Denmark."
What advice would you give to somebody considering a career in Denmark?
"It's definitely possible. You have to do a lot of professional networking and learn the language. I think one main piece of advice is to resist the urge to conform. You have to stay true to who you are and know that you have value. The perspectives that you bring from where you lived create value for Danish companies. So always keep in mind that you are valuable and you do bring something to the table."