News round up
Denmark unboxes its fearsome F-35 combat aircraft and new Light Rail project
---
Swapping F-16s for F-35s "is like trading a Nokia 3210 for a brand new iPhone overnight," says DR's defence correspondent. Plus: a third of Ukrainian refugees have PTSD, and the government launches a committee for assisted dying in Denmark.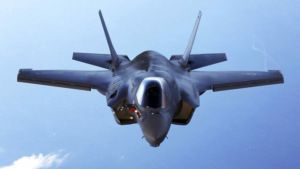 Today's top stories, in brief. To read more on a specific story, follow the links to our sources throughout.
Denmark's first new F-35 fighter jets landed at the air station in Skrydstrup, Jylland on Thursday.
In total, 27 of the state-of-the-art combat aircraft have been added to the Danish military arsenal to replace the earlier F-16 fleet.
According to Ritzau, the F-35s, delivered by American manufacturer Lockheed Martin, cost some DKK 16 billion.
"The F-35 is a big step forward technologically. It's like trading a Nokia 3210, where you could play 'Snake', for a brand new iPhone overnight. There is a lot of extra technology and extra combat power built into these planes," says DR's defence correspondent Mads Korsager.
He adds that, with the new aircraft in its toolbox, Denmark has leapt to the forefront of military airpower, globally: "These are the combat aircraft that the United States and other leading military nations are betting on."

One in three Ukrainian refugees in Denmark have PTSD
Around 40,000 Ukrainians have fled to Denmark since the Russian invasion in February 2022. Now, the first broad study of the lives of Ukrainian refugees in Denmark by Københavns Universitet shows that almost one in three exhibit signs of post-traumatic stress disorder.
Th study follows almost 7,000 adult Ukrainians who were granted residence in Denmark, of whom over 40 per cent have personally witnessed acts of war, while almost as many have lost family or friends between February 2022 and February 2023.
"The group who show PTSD symptoms feel bad across the board. They have a low mental well-being and a higher alcohol consumption, and they find it difficult to cope with daily tasks," explains Associate Professor Karen-Inge Karstoft from the Department of Psychology.
"If you have such a painful disorder, it is hard to participate in social life and the labour market in Denmark – or perhaps later in Ukraine. So it is also a societal problem."
Meanwhile, there is a strong feeling of trust in Danish society, and half of the Ukrainian refugee population dreams of permanent residence in Denmark.
Copenhagen unboxes first train for its new light rail system
Today, the Metro Company will present the first of 29 light rail trains, ordered from Germany, that will comprise the new city transport network Greater Copenhagen Light Rail, reports Ritzau.
The light rail ('letbane') will run from Lundtofte Station in the north, to Ishøj Station in the south. It is expected to carry 13-14 million passengers annually. The first stage of the light rail network is called the Ring 3 Light Rail and will be operational in 2025, according to Metro Company.
Rescue mission finally dislodges giant luxury cruise ship in Greenland
The cruise ship Ocean Explorer, carrying 206 people, which ran aground in northeast Greenland on Monday was finally pulled free yesterday, reports Associated Press.
An earlier unsuccessful rescue attempt was carried out on Wednesday by the Danish Institute of Natural Resources' fish research vessel Tarajoq, which is owned by the Government of Greenland.
The location is isolated and conditions harsh; when Ocean Explorer first raised the alarm, Danish defence ships were some 2000 kilometres from the site. "Our units are far away, and the weather can be very unfavourable," said Commander Brian Jensen of the government maritime organisation Joint Arctic Command.
Since the rescue, authorities have confirmed that no one on board is in danger and no damage has been reported, according to Euronews.
Government to establish a 'Committee for a More Dignified Death'
The government will facilitate a social debate in Denmark about assisted dying, by launching a 'Committee for a More Dignified Death'.
The committee will be chaired by parish priest and author Kathrine Lilleør, and comprise experts, practitioners and people with personal end-of-life experience.
According to Politiken, the work will result in a paper, which will provide the government with a decision-making framework for 'a Danish model for a more dignified death'.
The top three government leaders are behind the proposal: foreign minister Lars Løkke Rasmussen credits the 'deeply moving' book The Promise – A Love Story with inspiring the debate.
The book, about two of Løkke's close friends, documents the author's promise to help her husband end his life if he asked for it. Though, when it came down to it, she couldn't.
"We need to have a difficult but deeply necessary conversation about what we do when you want to leave here in a dignified way, perhaps sooner than nature intended," deputy prime minister Jakob Ellemann-Jensen told Politiken.
Prime minister Mette Frederiksen agreed: "that dignity is not there today. You can get help for something, you can get relief for other things, but you can't make an active decision to leave here."