With more than 30 years of experience in the dog food market, we at Bellfor know every little thing there is to know about healthy nutrition for dogs. At the same time we want to offer our customers and their dogs a sustainable alternative to meat-based dog food. That is why we have developed dog food based on protein from insects as a healthy and nutritious way to feed your best four legged friend. Because we know how important it is to feed your dog with high quality food which fulfills the dog's nutritional needs and provides the right amount of energy, you can be sure that your dog will be satisfied with our meat free dog food.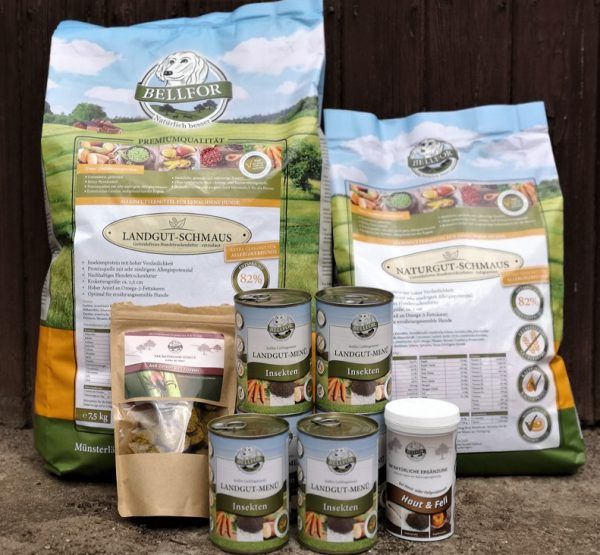 Nutritious dog food without meat
You do not have to serve your dog dog food based on meat to be sure that you meet the dog's nutritional needs. Why? Because the insects have healthy fatty acids, nutrients of the same high quality and meet the dog's protein requirements. In this way you can take good care of your dog while looking out for the environment as well. The insect based dog food is highly digestible and allergy friendly and is very ideal as food to particularly sensitive dogs.
Seven reasons to choose insect based dog food:

– It is highly digestible
– It is grain-free
– It only consists of natural ingredients
– It is nutritious dog food without meat
– It is without pesticides and antibiotics
– It is a sustainable dog food
– It is very good to sensitive dogs
Avoid feeding your dog pesticides and antibiotics
You can do both the environment and your dog a favour when choosing insect-based dog food. Because large-scale farming is a huge environmental issue of today meat-free alternatives can make a difference. In addition to the high use of resources in large-scale farming there is a widespread use of medicines, antibiotics and pesticides. If you do not want your dog to ingest these, insect based dog food will be a wonderful alternative. Consisting of only completely natural ingredients, insect-based dog food will be the healthy choice for your dog.