News
Danish architect Kickstarting its way to world's cleanest power plant generator
---
This article is more than 8 years old.
The project aims to reveal the plant's carbon footprint onto the Copenhagen sky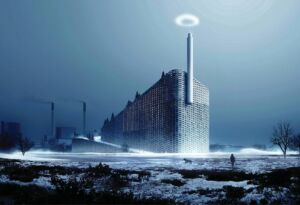 The Danish architecture firm Bjarke Ingels Group (BIG) has turned to Kickstarter in order to fund its prototype for the world's first steam ring power plant generator.
The generator, which is envisioned to be part of the cleanest power plant in the world (which is currently being constructed in Copenhagen), will puff out a steam ring for every tonne of CO2 burned in the plant.
"By sweeping nothing under the carpet, but rather projecting our carbon footprint onto the Copenhagen sky, we provide every single piece of citizen intuitive information to help them inform the decisions they make for their lives and for the city they want to live in," BIG wrote on its Kickstarter page.
The Kickstarter effort (here in English) aims to raise funding for BIG's final prototype and for subsequent testing before the real deal is built and installed in the Amager Bakke power plant, which is expected to be finished by 2017.
READ MORE: Construction begins on skiable rubbish power plant
Nearly halfway there
So far, with 25 days to go, the Kickstarter campaign has generated just over 6,600 US dollars in its quest to raise a total of 15,000 dollars.
BIG has already teamed up with rocket scientists and combustion engineers to design and build working protocols in August 2014 and April 2015. Now they are going for the BIG finale.
"Once the funding is completed we will set off to build this third and last prototype before the final version is added to the waste-to-energy plant currently under construction in Copenhagen, Denmark, which is to be completed by 2017. Help us and become a part of the world's first steam ring generator."
Amager Bakke power plant is expected to be finished by 2017 (photo: BIG)