News
Amateur archaeologists make sensational find in Jutland field
---
This article is more than 8 years old.
So far 165 silver coins minted in the 11th century have been excavated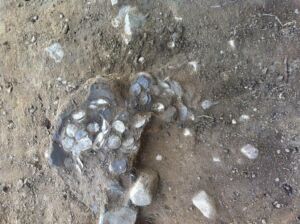 Amateur archaeologists have made a sensational find of Viking Age silver coins in a field in Errested near Haderslev in south Jutland.
So far, a total of 165 coins, dating back to the beginning of the 11th century, have been found, but they have not yet excavated the source of the treasure: a vase filed with coins, according to Anders Hartvig, a spokesperson for Arkæologi Haderslev.
"It's quite sensational. It's the first time in south Jutland that we have found such a huge find from the beginning of the 1000s," Hartvig told Ekstra Bladet tabloid.
"There are English, Danish and German coins and the faces on some of them are still very visible. For instance, Knud den Store [Cnut the Great], the king who ruled Denmark and England, minted some of the coins."
READ MORE: Danish archaeologists discover chapel of King Svend
Waiting for the crops
According to Hartvig, the treasure also includes a golden pearl that was probably part of a pearl necklace.
The treasure was actually discovered in the field last year, but the archaeologists had to wait until the field was harvested before making a more extensive dig.