Sport
Money ballerz: FCM the new kings of Danish football
---
This article is more than 8 years old.
The Wolves have kept their momentum going as FCK and Brøndby stumble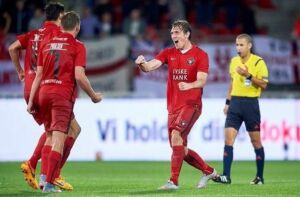 FC who? Forget the Lions of FC Copenhagen and the Tigers of FC Nordsjælland. The Wolves of FC Midtjylland are the top apex predators at the moment in Danish football.
Despite investing millions of kroner in new players over the summer, Denmark's traditional big two, FCK and Brøndby are out of Europe and struggling in the league. Reigning champions FCM, on the other hand, are picking up where they left off.
Looking strong
The Wolves are on the prowl with the pack looking strong once again. Last week they became the only Danish team to qualify for European football this season by knocking Southampton out of the Europa League. Tasty games against Napoli await.
There are impressing in the domestic league once again too. Through seven rounds, they remain undefeated and already enjoys a healthy five-point lead. FCK and Brøndby, meanwhile, are struggling early on.
READ MORE: FC Midtjylland draw Italian giants in Europa League
No longer a selling club
But arguably the most important component to FCM's early successes this season is down to the club being in a strong financial position to hang on to its key players.
Pione Sisto, Erik Sviatchenko, Jakob Poulsen and Petter Andersson all remain in Herning despite attracting intense interest during the just-closed transfer window.
Sisto and Sviatchenko reportedly turned down huge moves to the English Premier League. That wouldn't have been possible before the arrival of FCM's money man Matthew Benham.
Financial woes in the past meant that FCM had long been forced to sell key players and talents such as Simon Kjær, Viktor Fischer and Lasse Vigen Christensen in order to stay afloat. But now they're sticking around now.
Bright future ahead
Sure there have been some bumps underway, such as when the coach's coach Glen Riddersholm stepped down just weeks after leading FCM to its first Superliga title. And then the team was dumped out of the Champions League by APOEL of Cyprus. But they're back on their way.
After buying a majority take in the club in July 2014, Benham initially set FCM a target, looking ahead to 2020, of qualifying for the group stage of the Champions League or Europa League in at least three out of the next six seasons.
The status after year one is: the first Superliga title in the club's history and first qualification for the Europa League group stage in the club's history.
Not a bad start, one could argue.