Things to do
This week's TV: When there's no soccer they turn to swashbucklers!
---
This article is more than 8 years old.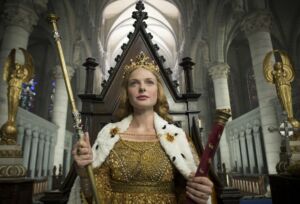 The White Queen
DR2, Sun Sep 13, 18:10
There are only two things English people really like to see on TV: football and series about medieval kings and queens who ruled kingdoms swimming in blood, swords and intrigues. And The White Queen, which details the rise of three of the most power-crazed women in English history, has one of them in abundance.
Set during the Wars of the Roses, a long-running conflict between the houses of Lancaster and York, power games are the norm as Elizabeth Woodville (the White Queen herself), Margaret Beaufort and Anne Neville try to seduce, murder and betray their way to the throne.
With a score of 7.8 on IMBD, and Swedish actress Rebecca Louisa Ferguson Sundström (a Golden Globe nominee) in the lead role, this series has two very good reasons to deserve a peak. And if that's not enough, King Edward (Max Irons) looks pretty good too!
---
Also New
Has Louis Theroux lost his charm? As a selective documentary maker, he was a darling of Generation X and the media a decade ago, but now the knives are out, or so it seems.
"Louis Theroux really doesn't look out of place in a psychiatric hospital," the Guardian observed about LT: By Reason of Insanity (DR2, Sep 17, 20:00), a line that commenters (his old fans) derided as outright spite.
One thing's for sure, his docs are getting laborious. Another 2015 effort, LT: Transgender Kids (DR2, Sep 11, 02:05), is two hours long and won praise from various LGBT press.
In contrast, the presenter of Idris Elba: King of Speed (DR2, Sep15, 20:00) can do no wrong. Since his brilliant turn as Stringer in The Wire, and then as Luther, he increasingly looks a good bet to become the first black James Bond … if that isn't a step down.
Elsewhere, the cuisine program Parts Unknown (DR2, Mon-Thu 19:15) continues its tour of the world in South Korea, Miami, Scotland and Madagascar; Voice Junior can be enjoyed by the whole family, even if it is in Danish; Makers: The women who make America (DRK, Sun 00:05), which is narrated by Meryl Streep, tracks 50 years of the fight for gender equality in the US; and there's another chance to see Inside Men (SVT1, Fri 22:55), British drama series about a heist gone wrong. (BH)
---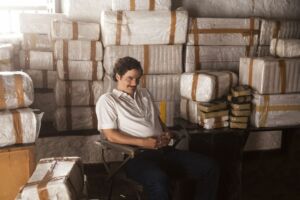 Coming soon:
Narcos
Netflix's new drama about Pablo Escobar's (Wagner Moura) rise as the king of cocaine is winning the attention of the masses (although maybe not in Colombia – something about the accents being inauthentic!)
But with a 77 score on Metacritic (and our editor's cocksure opinion), it's hard to ignore.
Based on true events, this dark and intense story shows there is no mercy in the world of drugs. Set in the '80s, it delves into the Medellin cartel industry that earned billions of dollars exporting cocaine to Miami, creating a river of blood and violence.
Season one's 10 episodes are all available online, so get ready to be hooked!
---

Sport of the week
Few thought Denmark vs Albania would be a crucial game, but with the teams level on points and the Balkans having a game in hand, this is a must-win for the Danes. Elsewhere, the US Open continues, we've got the Italian Grand Prix, and the other Euro 2016 qualifiers includes England vs Switzerland (K6, Tue 20:30) – can the Three Lions maintain their 100 percent record? (BH)
---

Film of the week
Those who argued that nothing good came out of killing Osama Bin Laden, think again. Zero Dark Thirty (SVT2, Fri 22:15) recounts the build-up and execution of the black ops mission that shot him in the head. And it's a thrilling ride. Ken Loach's whiskey-distilling dramedy The Angels' Share is also worth watching. But leave Killing Season well alone! (BH)
---
Due to an oversight, this week's newspaper published incorrect information regarding a number of programs on DR2, which are actually on next week (i.e Sep 11-17). The transmission times have been corrected accordingly.