News
'The Danish Girl': everything from over-sentimental to Oscar-worthy
---
This article is more than 8 years old.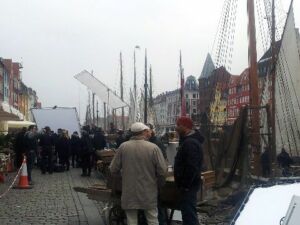 The transgender movement had come a long way before Caitlyn Jenner made it onto the front pages, and the spark was arguably first ignited in Denmark.
And now the movie 'The Danish Girl', which premiered at the Venice Film Festival on Saturday and is expected to challenge at all the major 2015 film awards, is seeking to retell this story through the extraordinary lives of Gerda and Einar Wegener/Lili Elbe, one of the world's first identifiable persons to have sex reassignment surgery.
READ MORE: Gorgeous Georgie, shy GI, who said "hej hej" to being a guy
Historic recap
Set in Denmark in the early 20th century, the movie covers a forgotten part of this country's history, offering a recap of the early stages of the transgender movement.
The movie takes into account several contemporary events, such as the slowly growing women's rights movement and the struggle faced by homosexuals and trans-sexuals at a time when it was considered schizophrenic and treated with pills.
Eddie Redmayne plays Einar, a Copenhagen artist stuck in a male body who is gradually evolving from being Einar the loving and sensitive husband to Lili, a young woman.
His loving wife Gerda, played by the Swedish actress Alicia Vikander, supports him with through the transition, which ultimately leads to the collapse of their marriage.
Criticised for cast
Before the film was publicly aired, the director Tom Hooper  (Les Miserables, The King's Speech) was heavily criticised for casting a male actor as a transgender woman, much like Jared Leto was in 'Dallas Buyers Club'.
But it looks like he has been vindicated as "Redmayne gives the greatest performance of his career so far," claims the BBC, which is predicting back-to-back Oscars for the young star (9/2 third favourite with Paddy Power).

READ MORE: Transgender drama The Danish Girl aligned for Oscar season success
Mixed reviews
However, while the US media have so far been unanimously positive, their British counterparts have mostly struggled with what they consider a weak  drama.
The Guardian says it's "too sentimental and too light without any controversies" claiming that "her [Lili's] swan neck is the best thing about the whole film" .
While Time Out London found the "decorous, overly tasteful spin" as "disappointingly flat as a painting on a chocolate box".
There were plenty of backers stateside, though. "Maybe the film's conventionality is exactly what's needed at this time to enlighten mainstream audiences on transgender issues," observed Hollywood Reporter.
The film will be released in the US on November 27 and in Denmark next year.