News
Mærsk makes major purchase in Latin America
---
This article is more than 8 years old.
A.P. Møller-Mærsk's port division, APM Terminals, has taken over Grup Maritim TCB and its 11 port terminals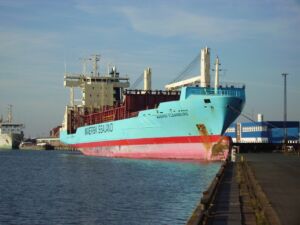 AP Møller-Maersk has purchased Grup Maritim, the world's 23rd largest port operator, which has 11 ports in Spain, Turkey and Latin America. The deal is worth several billion kroner and most of the ports are in Spanish-speaking countries. Once approved, the Danish company's terminal division will have 74 ports in 40 countries.
Grup Maritim was founded in 1972 and has been the private property of the Perez-Maura family. Last year, the company handled about 2 million containers. By comparison, APM Terminals handled 38 million containers.
"Robust financial performance and balance put APM Terminals in a strong position to make an investment of this type in a volatile market and pursue growth opportunities – both organic and through acquisitions," said chief executive, Nils S Andersen.
Major capacity increase
The 11 new ports add a capacity of 4.3 million containers and an annual volume of 3.5 million containers.
"This acquisition supports our growth plans," said Andersen.
Latin America has been a strategic focus of AP Møller-Mærsk for a while. The company has made several other investments, including a major joint venture in Colombia.
Stig Frederiksen, an analyst at Nordea, said the acquisition was a solid one for AP Møller-Mærsk.
"It gives them access to attractive areas," Frederiksen told Berlingske. "Spain is an area that has come back from the economic crisis relatively quickly, and the Latin American market should continue to grow in the long term."
A good fit
AP Møller-Mærsk would not disclose the price of the deal, but the group has a stated goal that all investments must generate a return of 10 percent.
Kim Fejfer, the administrative head of APM Terminals, said the Spanish company is a good fit for AP Møller-Mærsk.
"It is one of the best-run companies in the market," said Fejfer. "The company has a reputation for good service and a professional staff."
READ MORE: Maersk Group posts record profits
The company expects to complete the deal by the end of the year. It must first be approved by several authorities.