General
September kids: Denmark's equivalent of Dick van Dyke
---
This article is more than 8 years old.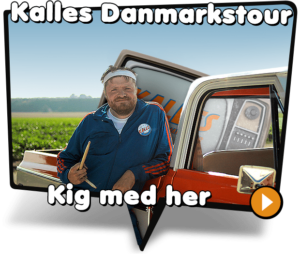 Kalle Mathiesen one-man show
Sep 13, 15:00; Kulturhuset, Islands Brygge 18, Cph S; BørneJazzKlubben members: 40kr, non-members: 80kr; bornejazz.dk
Kalle Mathiesen's motto is "music exists in everything and everything is music," and for several years now, he has been filling the ears of children and adults across the world with Kalle's World Tour.
Explaining the beginnings of his musical career he revealed: "I started playing at the age of eight, and I wanted to be the new drummer of Iron Maiden … but started listening to jazz." He then went on to study percussion at the Royal Danish Academy of Music.
His show is funny, clever and exceptionally musical, using instruments and props to entertain his audiences. No matter the age, this one-man performance makes for a fantastic outing that the whole family can enjoy.
If you've seen Mary Poppins fans, think Bert's (Dick van Dyke's) solo band, only bigger, better and louder! Using props that include balloons, teddy bears, fancy dress costumes, there is only one thing to expect from his show: the unexpected.
His past successes have included the title of 'Scandinavian loop station champion' in 2013, performing as a musical sidekick to Lars Hjortshøj during the show 'My Danish Collection', and several performances on Drumday and Groove Night.
If you haven't seen his TV program, Kalles DanmarksTour, on DR Ramasjang, or caught any of his appearances on Radio 24/7 and Radio Weekensax, then now's the time for a musical education.
---
Tolkien's Universe: My Precious
ongoing, ends Oct 18, open 12:00-16:00; Tøjhusmuseet, Tøjhusgade 3, Cph K; free adm
Introduce your kids to the joys of The Lord of the Rings and The Hobbit at this temporary exhibition dedicated to JRR Tolkien's creations. Don't leave them in the dark (of Mordor), stir their imagination! (EN)
Time for pottery!
Sep 19, 10:00; Land of Legends, Slangealleen 2, Lejre; kids 90kr; adults 145kr; sagnlandet.dk

Work with clay, meet the potter (13:30) and take home a nice souvenir. Check the calendar on the Land of Legends website for other activities, which includes discovering animal skeletons. (EN)